Athletic Greens
For most, "eat your greens" is not something we relish hearing and this is where Athletic Greens comes in. It's a combination of 75 ingredients (see below for more on this) which are sourced from real food, plus probiotics and digestive enzymes are added in order to help your body absorb and synthesize them. Athletic Greens contains no added sugar and is a gluten, nut, egg and dairy-free nutritional supplement that is also Paleo, Keto and vegan-friendly.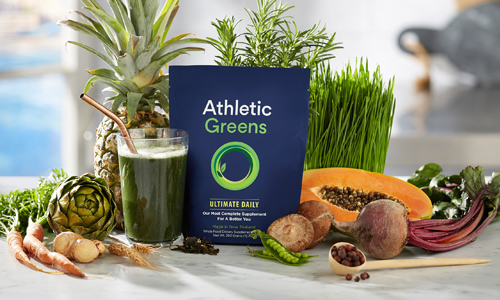 I hate to use the term 'superfood' as it has been hijacked and misappropriated time and time again so I'll stick to calling Athletic Greens a whole food supplement for your daily nutrition. One tablespoon contains 40 calories, 4.8 grams of carbs, 1.9 grams of fibre and 4 grams of protein. It's also full of nutrient-dense natural extracts, herbs, and antioxidants.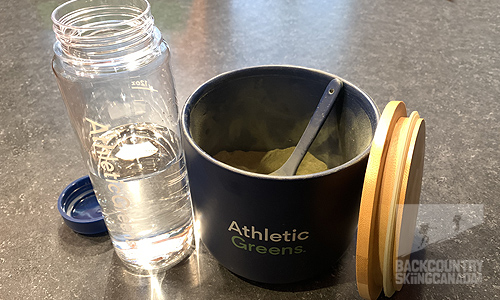 The reported benefits are:
Nervous System And Immune System Support
Digestion, Gut Health, and Liver Support
Efficient Energy Production & Storage
Hormone, Neural & Adaptogen Support
Antioxidants & Superfoods to Support Healthy Aging
While it is hard to verify any of these specific findings, Athletic Greens does help you get your daily micronutrients and top you up on other nutrients that will benefit your health. After using the product every single morning for a few months now I can say that it's not only really tasty but it's also super convenient to mix and use and this to me is the biggest benefit so that you actually want to use it.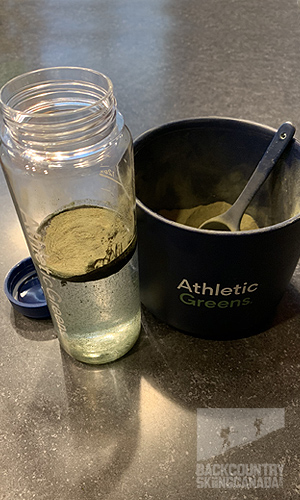 The one downside of Athletic Greens is that is it kind of pricey. You can buy a 30 day supply which gives you 12 grams of Athletic Greens per serving for $97US or you can subscribe to their monthly service for $77US / month which saves you 21% and conveniently arrives each month. That works out to $3.23/serving or $2.57/serving respectively before you include the shipping costs of $9 per order. If you want the convenience of single-serve packets with each contain 12g of Athletic Greens then you'll pay an additional $10 over the single container price of $97. This option is very convenient, however, the packaging waste is not really needed so I would only choose this option if you plan on travelling and want a convenient way to take Athletic Greens with you.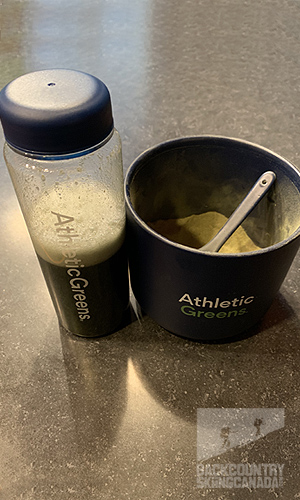 With the sample that Athletic Greens shipped to me, I received a convenient shaker for mixing the powder with water and I found this very handy for daily use whether at home or on the road. I even took it into a heli-in backcountry ski lodge for two weeks in order to continue my daily routine of taking Athletic Greens every morning.
As I mentioned above, it is hard to prove that any nutritional supplement actually does something for you and since we are all made up differently the results will vary. What I can tell you after having taken Athletic Greens for over two months now is that I enjoy getting up and drinking it first thing in the morning. It's more inviting than water and better for you than coffee and since I know that hydration is important for you as soon as you wake, I feel good about this new regime I am on. The fact that Athletic Greens is packed with so many 'good for you' benefits just makes it all that more compelling.
So, do I feel better after drinking my daily Athletic Greens? The short answer is yes. Will I keep on taking it every day? Again yes. I feel that it's worth the cost to try and maintain my health as I age but if you are on a budget than this may be more difficult to justify. The bottom line is that Athletic Greens tastes great and is good for your body, so if you value that then it's worth it.
Here's a look at the media sample that Athletic Greens sent out to me, it included a super nice storage container and portion spoon in addition to the shaker and a months supply.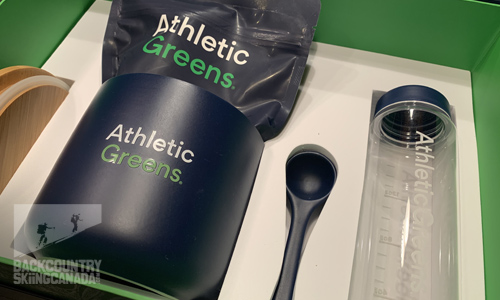 So what exactly does Athletic Greens contain? Get ready it's a lot:
VITAMINS AND MINERALS
Vitamin A, Vitamin C, Vitamin E, Vitamin K2, Thiamin (Vitamin B1), Riboflavin (Vitamin B2), Niacin, Vitamin B6, Folate, Methylcobalamin (Vitamin B12), Biotin, Pantothenic acid, Calcium, Phosphorous, Magnesium, Zinc Citrate, Selenium, Copper, Manganese, Chromium, Sodium, Potassium.
ALKALINE NUTRIENT-DENSE SUPERFOOD COMPLEX
Organic Spirulina, Organic Wheat Grass Juice Powder (leaf), Organic Alfalfa Powder (leaf), Organic Chlorella Powder, Organic barley leaf powder, Acerola cherry fruit juice powder extract, Broccoli Flower Powder, Bilberry Fresh Fruit Extract, Red Beet Root Powder (fruit), Rosehip (Rosa Canina) Fruit Powder, Carrot Root Powder, Spinach Leaf Powder, Cocoa bean polyphenol extract, Grapeseed Extract, Green Tea extract (leaf), Licorice Root Powder, Wolfberry (goji) Fruit Extract, Kelp Whole Plant Powder, Alkaline pea protein isolate, Citrus Bioflavanoids Extract, Citric acid (anhydrous), Gotu Kola Extract, Alpha-Lipoic Acid, Hawthorn Root Extract, Policosanol, Co-enzyme Q-10 (ubidecarenone), Stevia, Reishi Mushroom Powder, Shiitake Mushroom Powder.
NUTRIENT DENSE EXTRACTS, HERBS + ANTIOXIDANTS
Alkaline pea protein isolate, citrus bioftavonoids extract, artichoke leaf extract, citric acid (anhydrous), Rhodiola (Rhodiola rosea) root dry extract, Eleuthero (Eleutherococcus senticosus) root extract, gotu kola extract, rosemary leaf extract, milk thistle seed extract, R,S alpha-lipoic acid, Ashwagandha (withania somnifera) root extract, dandelion whole plant dry concentrate, hawthorn berry extract, beta glucans, policosanol, Co-enzyme Q-10, Stevia rebaudiana leaf powder, Vitamin K2.
DIGESTIVE ENZYME & SUPER MUSHROOM COMPLEX
Astragalus (Astragalus membranaceus) root powder extract, bromelain, burdock root powder, reishi mushroom powder, shiitake mushroom powder, stevia.
DAIRY FREE PROBIOTICS
Lactobacillus acidophilus - UALa- 01, Bifidobacterium bifidum - UABb-10.