COMP...Full Moon on Ymir
What to do with a full moon and crystal clear skies? Well when your days on snow are limited you go splittin! After doing a few night laps on our bikes this fall, Vince (my usual adventure partner) and I decided that some winter nights where necessary. Problem has been figuring out where to go. One day at work it came to me. Mt. Ymir! Being that Ymir is the logisticaly easiest of the 2300m+ peaks in the Nelson Range, the decision was a no brainer. So on this past Friday we went for it.
After having supper and chillin out with my family, it was off to Whitewater ski area. This is my sixth season in the West Kootenays and very little time has been spent in the Whitewater area. What can I say, I'm a sucker for Kootenay Pass. The minute we pulled in to the parking lot I asked my self why I hadn't spent more time here. The way the moon lit up Ymir was enough to make me drool!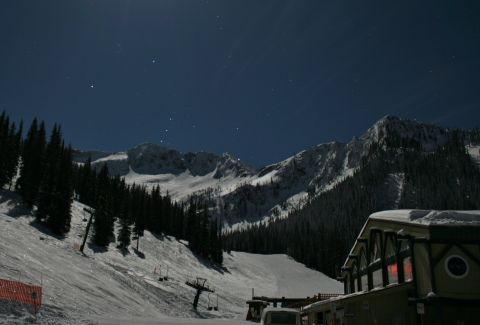 Mt.Ymir from Whitewater parking lot. 9pm.
After gearing up and taking a couple pics we headed up the summit side of the ski area. We followed a groomer to Blasters Ridge where we enjoyed some nice views. The moon lit everything up well enough to negate headlamps and provide beauty views. We followed the well travelled track east around two small bumps to a low saddle. The saddle provided good views of the bowl above the ski area that we would descend later that night. After a cup of tea and a few more pictures we were off for the final climb.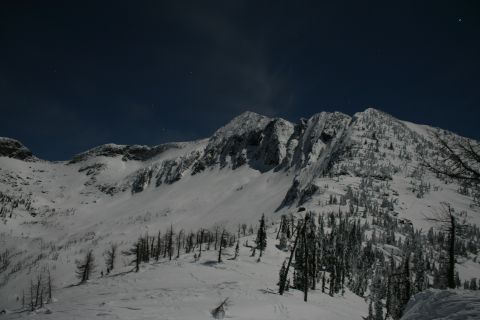 Tea Time on the Saddle
The final climb was a little steeper and very much wind hammered making purchase a little tough. As we climbed the views just kept getting better and better. Qua and North Qua are now engraved in my mind and call my name at night.....We'll see them soon! As we climbed the winds started to pic up a little bit. Being that they were still light to moderate there were no complaints. Little did we know that it was a windfest on the summit!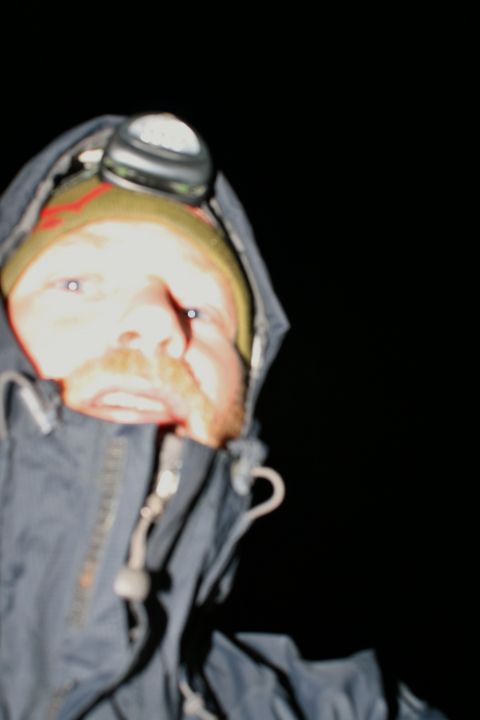 On the Summit.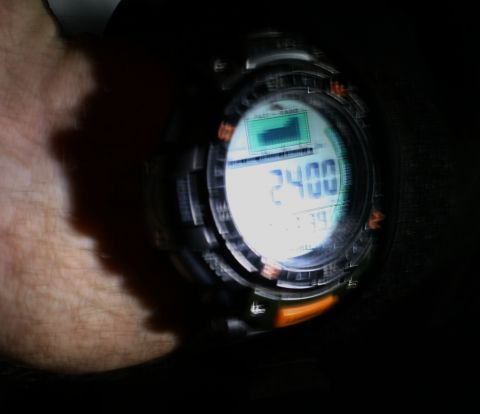 Can't make out the time but it was around 1am.
Two minutes on the top gave us enough time for picture proof and a couple of hoots and hollers, before booting down the north ridge a few meters to get out of the wind. We dug a quick ledge for shelter and proceeded to build our board and secure our head lamps.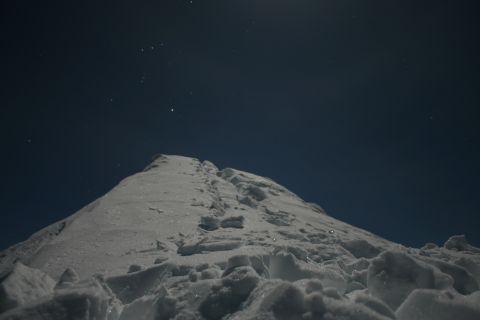 Looking up from our wind sheltered ledge.
After a couple pics we kept dropping down the ridge to the entrance of the shelf. This is where the winds really got bad. The snow was blowing at us so hard we couldn't se or breathe. As soon as we dropped in on the face the winds became manageable and our run became visible, and what a fun run it was. We spaced out for our ride down and enjoyed fully carvable snow back to the resort boundary. A couple of high fives later we were riding a groomer (for the first time in years) back to the car.
Thank you Whitewater. Vince and I will be back for more adventures.....maybe even in the daytime!