Wapta Traverse - TRIP REPORT/REVIEW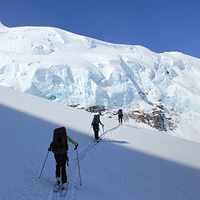 This past spring, four of us set out from Nelson, British Columbia for five-days of ski touring along the famous Wapta Ski Traverse. Two of us were Wapta virgins, the other two having done the traverse years before. We had booked the Alpine Club of Canada huts more than six months out to ensure we could secure a place for each of our crew, there was no knowing then whether we were booking a week of bluebird skies or a week of storms. We backed a winner week and had perfect bluebird and stable mountain conditions for the entire time. On top of that the snow pack was one of the best it had been in years so the terrain was not as rocky as usual. March had been really good for snowfall. The base at Lake Louise was at 260cm and we almost got 3 metres when one of our party probed. You will hear many stories of the Wapta Traverse, don't let our picture-perfect account mislead you, we could easily have been up there in white-out conditions with a sketchy snow-pack the entire time … but we weren't and the traverse felt like a breathtaking walk in the park—this time.
Read the rest of the trip report / review here, get all the details about the huts here and find the complete the Wapta Traverse route details here.