Wapta Traverse rescue
A rescue has been unfolding on the Wapta Traverse over the last 7 days just south of the Balfour High Col and north of the Scott Duncan Hut.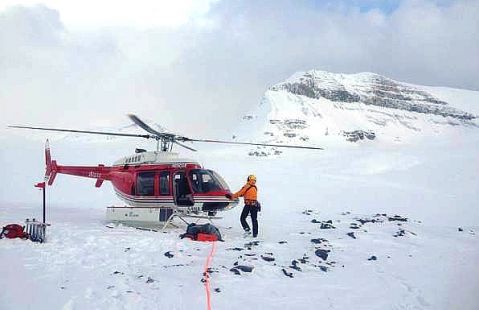 On March 12th at around 7:30 pm a party of three encountered a storm and one member of the group fell into a crevasse. The man was in his 50's and originated from Abbotsford BC, the other two members of the group were a 50 year old male and 30 year old female. The incident took place at an elevation of 2600m and the two members of the group who were uninjured were not rescued until Friday Mar 14th due to bad weather. Initial readings from avalanche transceivers indicated that the man had fallen 35 meters down the crevasse and the other group members were unable to help extricate him. It was not until just yesterday (Tuesday March 19th) that Parks Canada was able to fly in and retrieve the mans body again due to blizzard like conditions for the past several days.
A seven member rescue team landed at the scene and used rope and harnesses to climb into the crevasse after shovelling away several meters of snow. Approximately 15 meters down into the crevasse rescue members had to chip away a snow bridge to gain access to the trapped skier.
I am sure that everyone in the backcountry skiing community wishes to express their sincere condolences to the victim's family,  and our thoughts are with the family of the victim.
Photograph by: Parks Canada , Handout.