Wapta Traverse conditions
The latest conditions courtesy of the Mountain Conditions Report: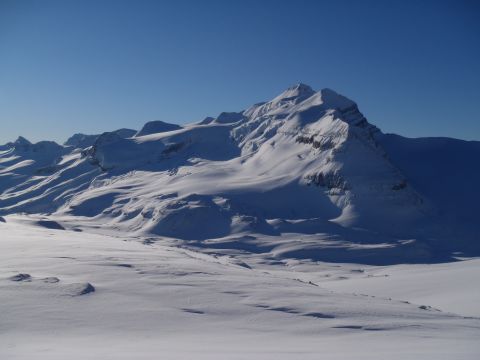 Spent the last two days on the Wapta Icefield. Day one was around the Bow Hut, day two was a trip around Mt Gordon. Here is a summary of what we saw.
Weather: Calm to light east winds in the alpine, -15 to -22 degrees Celsius, very light snow on Monday and brilliant sunny skies today.
Avalanche Activity: No new avalanches seen in the last 48 hours, if not longer. We did ski-cut some steeper wind-roll features but had no results.
Snowpack: At treeline and below, there was an average of 80-120cm of snow, with a firm, settled mid-pack topped with 35-40cm of facetted snow. This was where the best skiing was as there seemed to be little wind effect down lower.  In the alpine, the winds have created a wide-spread soft slab on the surface. It was skiable, but quite grabby on the ski tips. There was a range of depths encountered higher up, from 120cm in wind-scoured areas, to 250cm on the west side of Mt Gordon and the slopes right above Bow Hut.  The glaciers have a fairly even coverage on them, and many larger holes are starting to fill in.  The ascent up to Balfour High Col looked to have some large open holes close to the nunatak that you commonly ski next to.  The Yoho Glacier was uneventful, and the large holes were very evident from a long distance away.
Travel Conditions: Wax your skis better than we did! It felt like we were skiing in sand it was so slow.  Ski penetration was 10-15cm, so trail breaking was easy. But you often had to continue in touring mode on the long, low angle descents common to the Wapta.
Chris Gooliaff
ASG/AAG