North Rockies Ski Traverse - TR
Yesterday six of us completed a variation of the North Rockies ski traverse, starting near Jasper (Portal Creek) and ending up at the Clemenceau Icefield. We were out from April 18-26 and spent most of the time above treeline within a few km of the Great Divide.
It still felt wintry, especially the first several days with overnight lows between -11 and -15. At the end of the trip it warmed significantly with -3 recorded at 2000 m at the 4 am start to our last day. However, alpine north aspects still had dry snow and trailbreaking through low density powder. There were thin suncrusts on south aspects, some of which were carrying the weight of a skier. By now there will be thin temperature crusts up to treeline.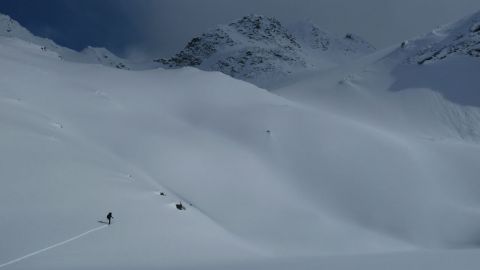 Snow coverage was excellent on the entire route with treeline snow depths in the 2+ m range. On the glaciers it was generally 3+ m although in windward areas it was often thinner.
Avalanche activity was limited to solar triggered avalanches, mostly loose, and a few cornice falls. The largest avalanche was a size 3 broad cornice release on the east face of Mt Brown on April 23. We had one large whumpf in a thin snowpack moraine area, W aspect, 2400 m, on April 24 on the first warmer day.
This is one of the best ski traverses I have ever done.
Congratulations to Eric Harvie and Felix Belczyk for having now completed the entire Great Divide Traverse from Jasper to Lake Louise. We may have to claim the slowest traverse, seeing as it took us four trips over seven years!
Mark Klassen
Mountain Guide
Erica Roles
Asst. Ski/Asst. Alpine Guide