Alpine Club of Canada ski touring Hut to open in Waterton Lakes National Park
Big news for backcountry skiers looking to explore Waterton Lakes National Park this winter, there will now be an Alpine Club of Canada (ACC) hut in the park. The powers that be have approved the ACC's bid to restore the Cameron Lakes Cabin which is an old warden cabin in Water Lakes National Park.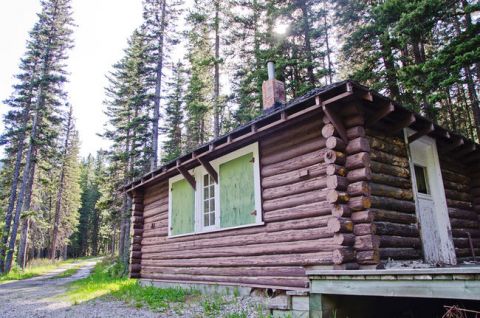 Winter enthusiasts will soon be able to use a cabin near Cameron Lake in Waterton Lakes National Park as a base for their snow-filled adventures.
The federal government approved the Alpine Club of Canada's bid to run the site as part of its national network of backcountry huts that gives overnight shelter to hikers and mountaineers.
The ACC, registered as an amateur athletic association, already operates 30 alpine huts and promotes Canada's mountaineering society.
"The Alpine Club of Canada is excited to work with Waterton Lakes National Park to offer a unique winter experience in rustic accommodation at the Waterton Lakes Cabin," Lawrence White, executive director of the Alpine Club of Canada, said in a press release. "This world class destination compliments our world class operation of backcountry huts and cabins."
As an ACC hut, the Cameron Lakes Cabin will host up to six people at a time. It is the oldest surviving cabin in Waterton. The alpine club is funding the renovations of the cabin.
The cabin is located just off the Akamina Parkway which is closed to vehicles during the winter months. According to Parks Canada, results from public consultations favoured the project.
The ACC will fix up the cabin this summer. Once ready it will only host guests - up to six at a time - during the winter months.
That area of the park can receive up to four metres of snow each winter and is a popular destination for snowshoeing and cross-country skiing.
While not a designated heritage building the backcountry cabin is the oldest surviving structure of it's kind in the park. It was built in 1929.
A background release from Parks Canada stated, "In addition to providing opportunities for winter lovers of all skill sets to enjoy the natural setting of the Cameron Lake area, the cabin will also provide an excellent base for experienced backcountry enthusiasts to access the exceptional skiing opportunities in the southwestern corner of Waterton Lakes National Park and in the immediately adjacent Akamina Kishinena Provincial Park in British Columbia."
Once in operation this winter the overnight fee will range from $25 to $36 per person. Kids will receive a half-price discount. To reserve space in ACC huts go to their website a www.alpineclubofcanada.ca
(Story and photo from the Pincher Creek Echo)