Rockies Conditions 09-Mar-17
Another weekend, another weather system. Guess what, it's going to snow and get warm and windy and then things are gonna slide. So I guess all I can do is just let all you 9-5ers know what I observed this week and make subtle jabs about how I get to ski more than you.
I had some fun at the start of the week in some trees along the Divide. The skiing was fast and the snow was soft, but it was slabbing up in steeper areas and I did hear a couple of settlements when breaking trail. Approaching the alpine there was probably 20-40cms of soft cohesive snow on a strong midpack. I'll not mention the base or lack thereof. Watching the avy control going on across the road was spooking me so I decided to rein in my plans for the day and head on home.

We also headed up the 93S yesterday to see how the warm March sun was affecting southern slopes. Looks like things are cooking faster than a Brit on Bondi beach with lots of small point releases and some pinwheeling visible. We also observed many recent slides of what was probably storm snow, up to 2.5 on all points of the compass. The cornices on lee aspects are also getting yuuuuge and a couple spots had collapsed and triggered slides on slopes below. The snow was sticky on the way down but that could definitely been my lack of wax. Nevertheless we had some great turns on low angle stuff. As we were leaving at around 1pm it looked like the weather was moving in and things were getting warm.
Kananaskis also got a lookin this week, I managed to cover all the bases. Things are pretty good there too ski wise, and stability seems to be coasting along in the sketchy-touchy fashion we all know and respect. A big cornice failure in the Tryst lake area really reminded many people that it's not as safe as it may seem to be, you probably read about it on the MIN. I also managed to get a sweet photo of the post storm EEOR bombing so that was pretty sweet.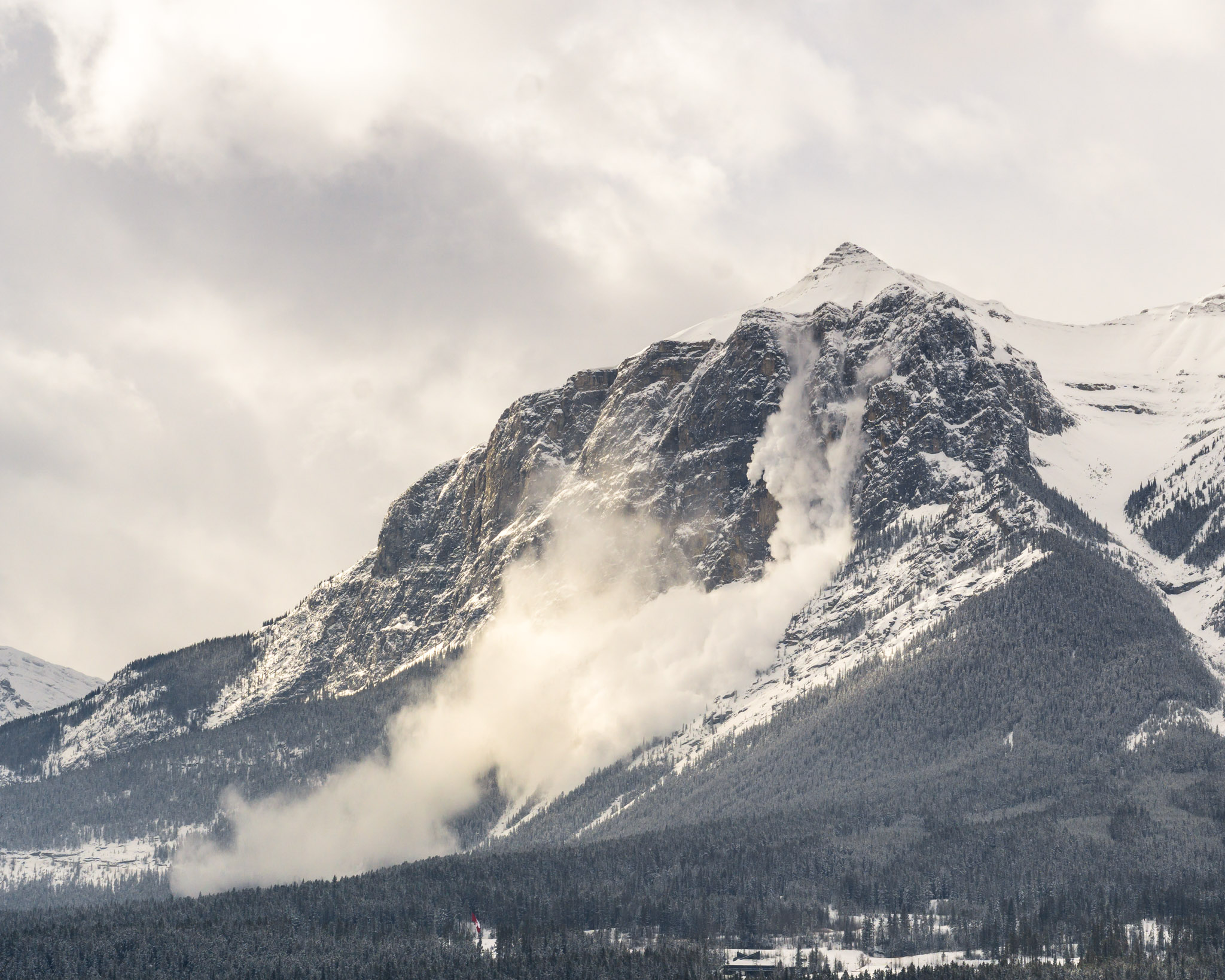 Boom!
All of this is probably moot as the system moving in will load the reactive storm snow from last week and kick off another avy cycle. It looks like 10-20cm is forecast across the region, with strong winds and temps a bit below freezing. It seems like the sensible thing to do this weekend is to get out, minimise your overhead hazard and stick to some low angle slopes.