Spring Ski Mountaineering at Kokanee Glacier Park
Day six up here at Kokanee Glacier Cabin and the required routes have all been successfully ticked off the "to-do" list. Sunday saw us climb two peaks in the south end of the park, namely Sunset Peak and Mount John Carter which was named after the legendary hut keeper here at Kokanee who tragically died in an avalanche several years ago. Monday we topped out on Mount Robert Smith and an unnamed Peak behind the cabin towards the enchanted forest. The un-named peak was a solid boot pack to the 8500 ft summit but offered uninterrupted views of Kokanee Glacier, the Battleship and the Pyramids. The following day we took on a big 10 hour day to climb up kokanee Glacier and traverse all the way over to Greys Peak which is the second highest peak in the park at just over 9,000 ft. After 21km of ski touring and over 5,000 ft of vert we returned to Kokanee Glacier cabin via the valley and Kokanee Lake. Today is a much needed rest day with one day remaining on Friday before we fly back out to Nelson and summer weather.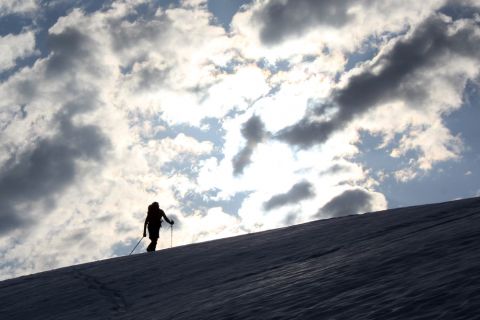 The summit of Greys Peak, made famous by the Kokanee Beer company.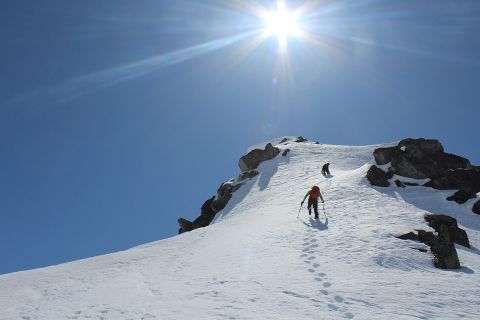 Ski touring up Kokanee Glacier at 7:00 am.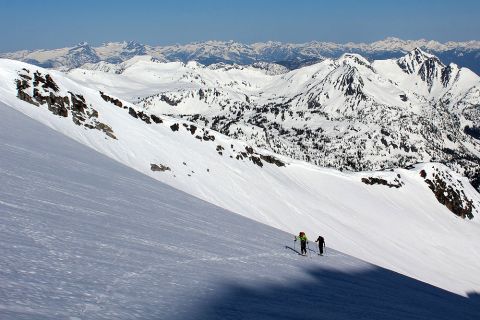 Sunny and warm first thing in the morning on Kokanee Glacier.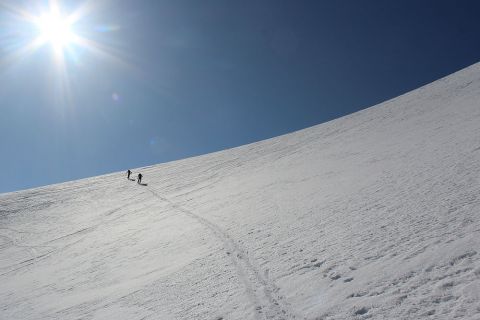 Overall the skiing here at the cabin has been spring corn but the ski mountaineering options are endless. With the temp getting up to +15 most days we have been having true alpine starts before 6:00 on most days to travel when things are still (mostly) frozen and safer than the heat of the day. There are plenty of obvious wet slides coming off cliff bands and rocks but over all the snow pack is holding up well and permitting us to climb just about anything we set our sites on.
A view of Kokanee Glacier, the Battleship and the Pyramids from Mount Robert Smith.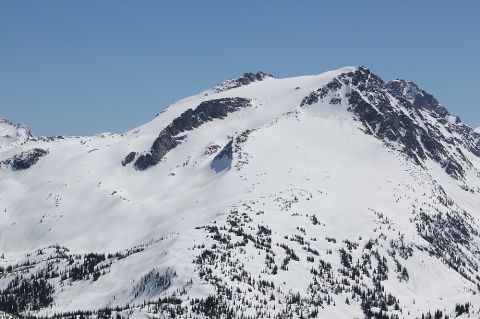 Climbing out of the enchanted forest on the way to Mount Robert Smith.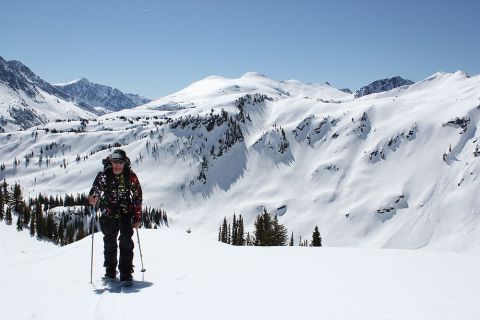 On Sunset Ridge preparing for the last 100 ft boot pack.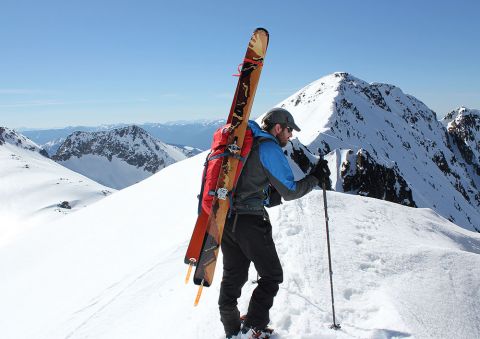 Sunset Peak from a distance at Sapphire Lakes.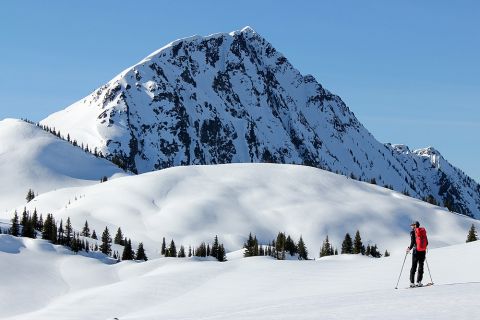 May is an ideal time to stay at Kokanee Glacier Cabin as there is no need to win a lottery to get a spot here and in fact there are only 6 of us in the cabin this week so it is pretty spacious. We will be preparing a full review of the facilities and skiing here in Kokanee Glacier Cabin so keep an eye out for that—including a video review. We are also working on compiling some routes in the park so when you do book a trip you will be prepared with heaps of route beta for the week.
To get all the details on each of the climbs mentioned about have a look at the Moves Count page created by the Suunto Ambit. Below are screen shots of the maps but there is also elevation gain, distance, time and much more.
Sunset Peak and Mount John Carter details here.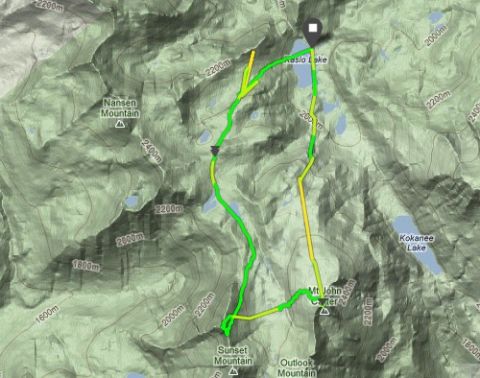 Mount Robert Smith and an unnamed peak details here.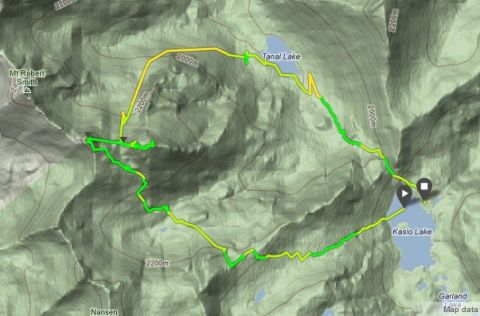 Greys Peak details here.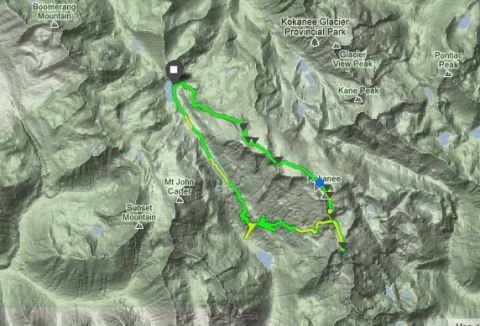 Have a look at our first post from the weekend over here.