Kokanee Glacier: Climbing Mt. John Carter via Sapphire Lakes
Kokanee Glacier Park is located a 20min drive just east of Nelson BC and offers up some pretty easy access hiking, scrambling and mountaineering in the summer months and world class backcountry skiing in the winter months. Kokanee Glacier Cabin is your base camp for either summer or winter adventures and is located a few hours hike into the park on well maintained trails. Last week provided a good weather window to get into Kokanee Glacier Park and put some km's on the 'ole hiking boots.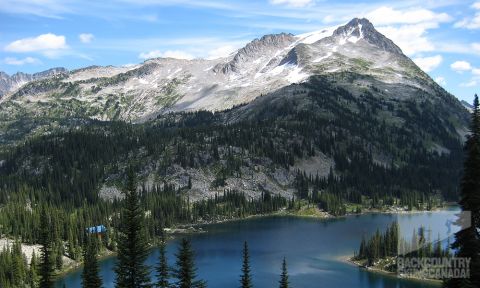 (click photos for a larger view)
A round trip hike to Kokanee Glacier Cabin, Sapphire Lakes and Mount John Carter will take you the better part of a full day and cover 23 kilometres with 1,205m of elevation gain (see the details here). Once you leave the main trail that leads to Kokanee Glacier Cabin the minimal crowds dwindle to non-existent and the scenery becomes more rocky with picturesque streams and lakes that lead you to a beautiful basin where Sapphire Lakes can be found. Camping used to be permitted in this basin but now its day tripping only so be sure to leave your car early to provide enough time for a swim and relax around the various lakes. From Sapphire Lakes head due south into Glory Basin and start climbing up to the large plateau to the west where you'll find the summits of Mount John Carter (which is named after former president of the Friends of West Kootenay Parks Society who was killed in an avalanche in 1996) and Outlook Mountain. With good views of the valley below you will be tempted to B-line it for the parking lot via the steep rocky south face of Mount John Carter but second guess this ambitious plan as it is much farther and steeper than it looks. You can back track to Sapphire Lakes and hike out the draw to the east or take a shorter, more direct route that you can see here on my Garmin Connect page.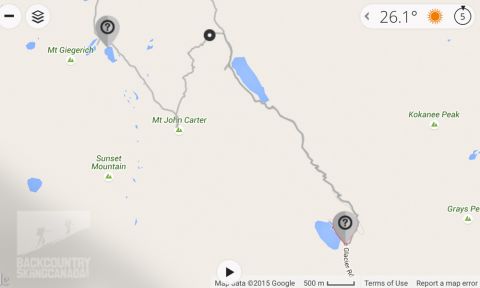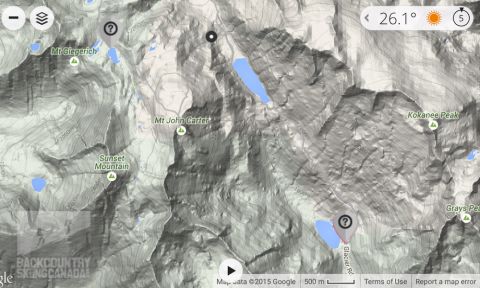 The hiking season is short in Kokanee Glacier Park given its elevation and propensity for early and late season snow so get off the couch and check out the park before the snow flies. After this time you'll have to enter a lottery in order to get the opportunity to experience the park in winter time. For more information on backcountry skiing in Kokanee Glacier Park have a read of our trip report / review here or look at the multitude of routes that you can ski and the amenities of the cabin.
Kokanee Lake from the North end on the descent from Mount John Carter.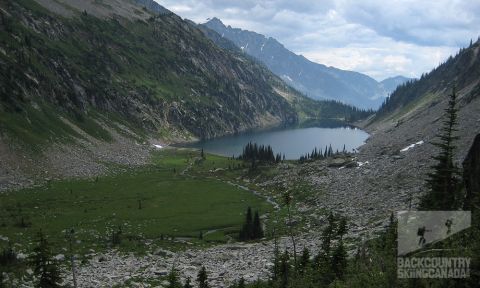 On the way to the summit of Mount John Carter and looking north-west back towards Sapphire Lakes.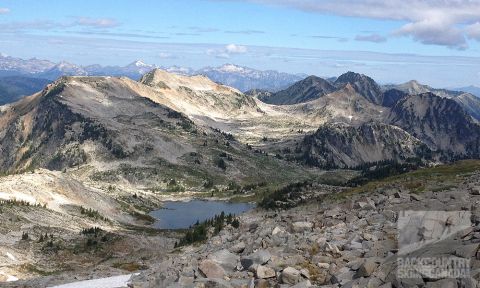 Smoke from a back burn on the Sitkum Creek fire as seen from Lemon Creek Pass.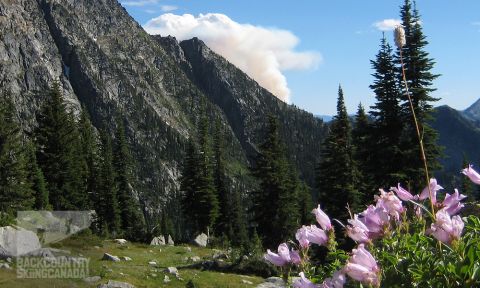 Looking south from the summit of Mount John Carter toward Gibson Lake and the parking lot.