Getting high on Toad Mountain
The last time I climbed Toad Mountain just West of Nelson BC was approximate two years ago in the month of June. Back then it was a relatively snow-free hike rather than a ski tour. With plenty of snow still up high in the mountains (less than 50% of normal I am told however) and none in the valleys it makes climbing a peak a difficult endeavour as the question inevitably arrises, hiking boots or skis? On this day snow on the access road foiled our approach and added 5 km to our journey. Without knowing how much snow versus dirt was to be found this day the decision of skis or hiking boots was a debate we considered for some time as we geared up at the car. Ultimately we decided on both. Start in skis and hope that the snow takes us to the summit, failing that our hiking boots would be stashed in our packs in case our intuition failed us.
Toad Mountain off the distance with some remnants of the long gone mining era just off our skin track.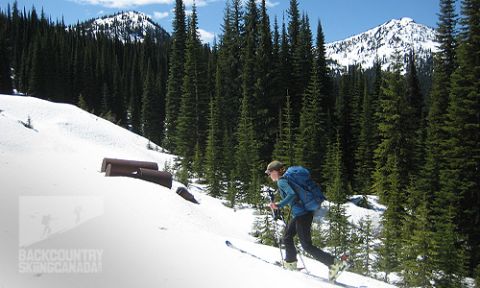 Mid way through the climb Whitewater Ski Resort comes into view in the distance.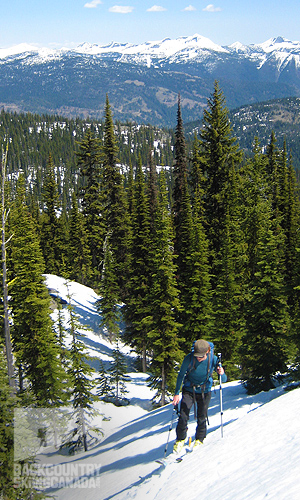 Nelson coming into view below and Kokanee Glacier Park in the distance.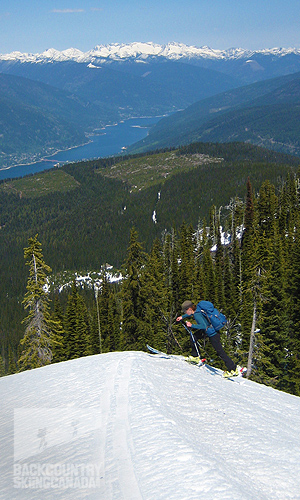 As it turned out skis was the right choice for the day as snow flowed right to the 7,247 foot summit of Toad Mountain except for a few dirt patches in sun exposed areas of the access road that we had to take the skis off for. After a few hours of climbing we found ourselves on top and took a much needed break to take in the views. With good coverage and bomber conditions the ski down was rewarding and much faster than being on foot. The spring corn snow made for enjoyable turns and covered any obstacles in the forest except for the occasional open creek.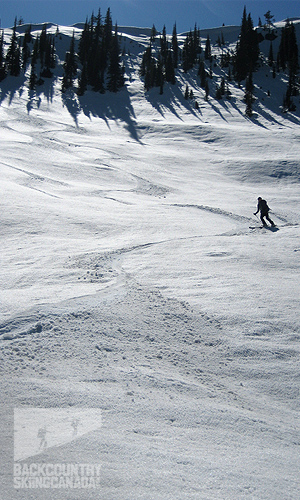 After almost seven hours we returned to the car sweaty, slightly sun burnt and tired but with happy smiles on our faces. Glad to have had skis underfoot and the gumption to head out with aspirations to get high and explore some peaks that otherwise aren't accessible for several more weeks on foot.
The 360° summit view is worth the effort.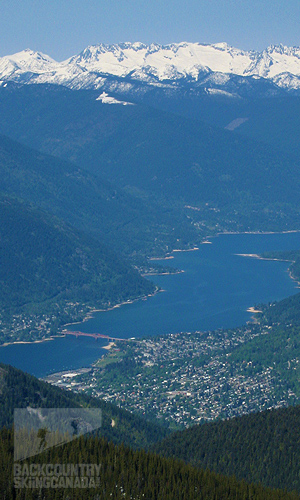 Check out some of the stats on the Backcountry Skiing Canada Garmin Connect page as compiled by the Garmin Fenix 3 GPS watch.