Canadas 10 Best Ski Destinations
Looking for a list of top places to ski in Canada? Well, here you go! Doug O'Neill writes this fantastic little article about the best resorts to hit up, great activities for the kids and also what the non-skier types can do while you're out there hittin' the slopes!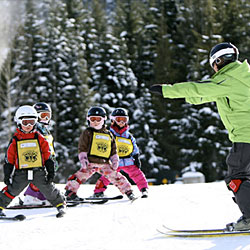 1. Whistler Blackcomb, British Columbia: Together, the adjacent Whistler and Blackcomb mountains offer more than 200 marked runs, 16 alpine bowls and three glaciers over 3,200 hectares of incredibly beautiful terrain.
For the non-skier: dog-sledding, tube park, zip trek, snowcat tours, and visits to the trendy shops and eateries in Whistler Village.
For the kids: in addition to ski lessons catering to all levels and ages, there are special kids and teen programs and the Whistler Kids Snow School. Plus, there's also outdoor skating at Olympic Plaza and the thrilling Coca-ColaTube Park.
For more information visit http://www.whistlerblackcomb.com.
2. Sun Peaks, near Kamloops, British Columbia: At 1,500 hectares, Sun Peaks is the second largest ski area in British Columbia and is the third-largest in the country. This destination is popular with families and seasoned skiers with its opportunities for alpine and Nordic skiing.
For the non-skier: Sign up for a guided mountain tours of any of the 124 trails with a local Sun Guide or with Olympic ski champion Nancy Greene. Other options for non-skiers include snowboarding, snowmobiling, tubing and snowshoeing.
For the kids: skating, dog-sledding, aqua centre programs, ski lessons and time on the special bungee trampoline. Teens enjoy the Mascon Hangout at Sun Peaks Sports Centre where they can entertain themselves with Xbox, Wii and movies.
For more information visit http://www.sunpeaksresort.com.
3. Banff/Lake Louise, Alberta: Skiers have long been coming to this region in the heart of the Rockies where the skiing is offered in three main resorts: Mt. Norquay, Sunshine Village and Lake Louise Mountain Resort. Banff National Parks is a UNESCO World Heritage site popular with tourist year-round, though in winter it becomes a 6,641-square kilometre playground. (Lake Louise alone offers 139 runs.)
For the non-skier: winter trekking, dog-sledding and tubing top the list. Lake Louise in winter morphs into a 2.5 km-long skating rink. Plus, there are plenty of culinary and spa opportunities in and around Banff. Afternoon Tea at the Fairmont Banff Springs Hotel is a popular way to warm up on a winter's day.
For the kids: almost all area lodges have kid-friendly programs and activities, including snowshoe tours, tobogganing, bonfires, winter hiking and trivia nights.
For more information visit http://www.banfflakelouise.com.
4. Mount Tremblant, Tremblant, Quebec: This busy ski destination is nestled in the Laurentian Mountains about 130 kms from Montreal. Most of the skiing revolves around the well-appointed Mount Tremblant Ski Resort.
For the non-skier: non-ski options include tours of nearby Quebecois villages, tubing, dogsledding, spa treatments, Scandinavian baths and snowboarding.
For the kids: younger children (ages 1 to 6) enjoy the special programs at the Kidz Club, located in the Sommet des Neiges Hotel in the pedestrian village.
For more information visit http://www.tremblant.ca.
5. Le Massif, Baie-Saint-Paul, Quebec: Le Massif in Charlevoix is the highest point east of the Canadian Rockies. Picture a 770-metre vertical drop. There are 40-plus runs, the longest of which is about 5 km long. The best way to get there is a leisurely one-hour train ride from Quebec City, during which passengers can enjoy incredible views of the St. Lawrence River. In addition to alpine, there-'s cross-country, snowboarding, ice-climbing and lots more.
For the non-skier: You must try rodelling, which is a form of sledding, on the specially designed 7.5 km trail on Mont à Liguori. There are also gourmet tours of the Charlevoix area, plus excursions to the art scene in Baie-Saint-Paul. The culinary delights at La Ferme are without equal in the region.
For the kids: The Youth Program offers a beginner package that includes a ski lesson, day lift ticket and equipment rental for the entire day.
For more information visit
http://www.lemassif.com
.