Blue Thunder Ski Travers Trip Report
The latest form the Public Mountain Conditions Report:
Spent five days putting a new ski traverse around the North Blue and Thunder River alpine area of the Cariboos with practicum student Riel Macboudreau,
Really fun and sporty terrain with outstanding scenery. Our objective was to also get over the Miledge glacier complex and further develop this ski traverse but our progress was thwarted by a lack of overnight freezing.
Weather
The past five days was a typical spring experience with periods of intense precip dropping 2-5 cm of new snow or (rain below 1800 m), then clearing with intense solar radiation, convection clouds, some short blasts of moderate NW winds and air temperatures between -1.0 and + 9.0.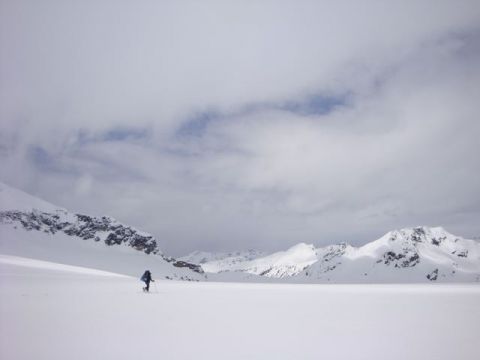 Snowpack Conditions
Above 1800m the mountains have still been receiving regular inputs with up to 40 cm of new snow over the past 10 days above 2000m. Snowpack depth is still between 3.0-4.5m at tree line.
Ski penetration was 5-20 cm and varied with aspect and deep isothermal snow on steep south aspects. Overnight of May 3rd a strong wind event created a stiff slab on north and west aspects but we had little reactivity during travel over steep terrain.
In general the upper 1.0 m of snow is a layered dogs breakfast of new snow, moist rain or sun effected snow and weak melt freeze crusts with some ephemeral dry snow on true north aspects above 2300m. Due to the regular new snow inputs this area has not developed a good solid travelling surface yet. There was snow cover right to valley bottom at Hwy#5.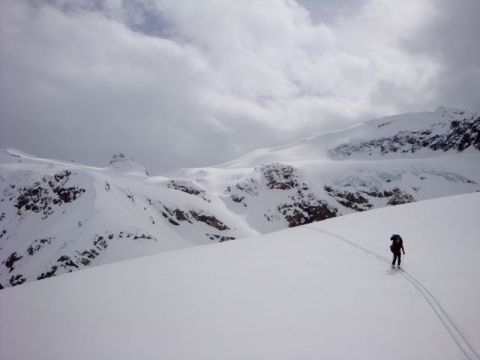 Avalanche Observations
Experienced one large whumpf on a flat morainal feature at 2000m, only triggered it when I took my skis off during snack time.
The sun was our avalanche button. Lot's of very large wet loose radiation releases running from ridge line to valley bottom. These loose wet avalanches carried a lot of volume, running full path on hard sun/temperature crusts.
As soon as the clouds obscured the sun, the radiation releases would all but stop enabling us to travel across the run outs.
The most concerning avalanche observations were several deep slab avalanches we observed in the lower portion of the Thunder River valley. The start zones were exclusively confined to north aspects at approximately 1500 m in steep but very skiable below tree line terrain. Fracture lines looked to be about 1-1.5 m thick and appeared to be sliding on a hard bed surface, these had very extensive propagation. One looked to be a size 4 and pushed over some mature trees extending the historical run out.Cornices have not been very active in this neck of the woods yet, with much of their mass still to come down. The very warm temperatures forecasted for the week ahead should get them dropping.
Overall, the mountains here are finally in transition and anyone still venturing out skiing should still be thinking about deeper releases on buried crusts in skiable terrain on all aspects, even at lower elevations. Even when you have a thick crust supporting your travel there may be something unsavoury lurking deeper in the snowpack.
Followed two Thunder river grizzlies out the valley, and the North Blue grizzly came out about 10 days ago. The wolves and wolverines liked to walk over top the grizzly tracks in places leaving evidence of a menagerie of wildlife activity.
Dana Foster Ludwig
ACMG Ski Guide/CAA Prof Member
Snowy Mountain Alpine Tours
Blue River - Clearwater BC
P 250 674 2988