A Gentle Reminder-SOAP BOX
All of us in B.C. are well aware it has been an unusually dry winter. On one hand this is "bad news" because we love powder; on the other hand, this is "good news" because we have had lots of sunny days and relatively stable conditions. This is particularily true these past few weeks and even without fresh snow, conditions in the alpine (at the right aspect, elevation and specific locations) have been great. Particular for couliour skiing!!
After two weeks of skiing some fairly burly lines without any real incidents combined with the CAA forcast suggesting Low or Moderate stability it becomes easy to get your guard down. In these cases the best thing that can happen is to recieve a gentle reminder to stay on guard, even during prolonged dry spells. We got one of these yesterday and I want to share an abreviated story to gentelly remind others.
Staying in a rickity uninsulated cabin with holes in the wall so big I was more worried about wolverines than I was about packrats allows for good observation of overnight weather. Friday night was cold and very windy. We awoke and quickly realized that if we were to find snow that was unaffected by wind, it would either be in the trees or in a protected coulior. With both options available but we opted to check out a prominent west facing coulior to see if it wasn't overly windloaded or slabbed.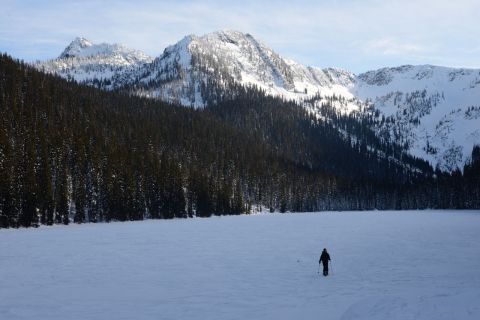 A look across the lake at the coulior - the original objective
As we skinned up through the trees and poked out into the slide path I noticed some thin windslab formation that would crack about 2 inches down, nothing uncharacteristic. It did however make me happy that the approach, for the most part, was in trees. As we neared the top of the tree line and the bottom of the coulior I kicked off a pretty good windslab with a variable crown depth of 25-40cm. I was luckily in a decent location but one part of the slab slide to valley bottom in a gully feature. Something like this could have been far worse if it occured in a unsupported area without any tree cover (particularily above rugged terrain).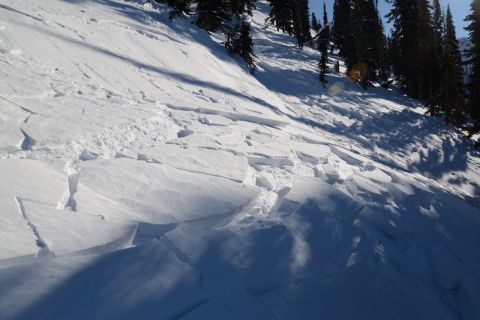 A look infront of me, at the far end before the trees it slid to valley bottom in a gully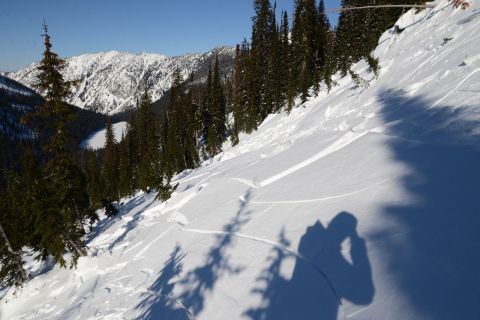 A look behind me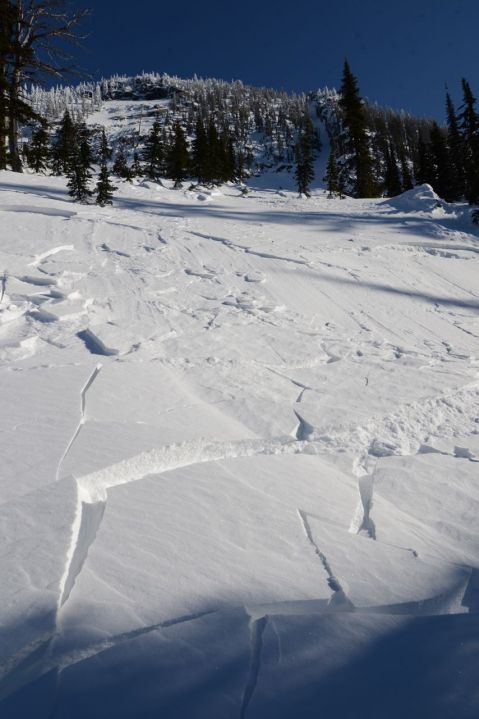 A look above me. You can see the bottom of the coulior we were approaching
After this event, we decided to ski in the trees. The snow was actually quite good. This was a good gentle reminder for us to pay attention to wind loading and wind slabbing even weeks after the most recent snow fall, particularily in cold conditions. As well it is reminder to those who are newer to the backcountry to only use CAA forcasts as a baseline and never commit to line just because it is low hazard. As mentioned this could have had far greater consequences in open terrain, particularilty above cliffs or a terrain trap.
Let It Snow