Backcountry Skiing if You're New to Skiing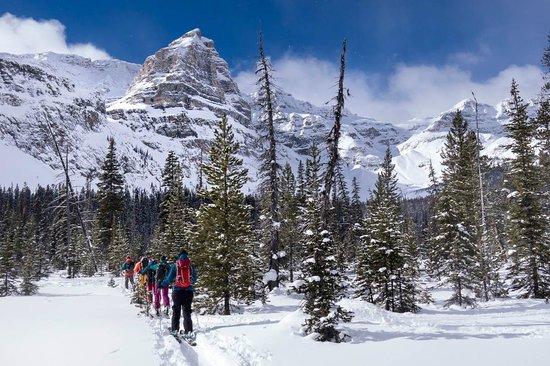 Most backcountry skiers — or at least most folks reading this website — fell in love with backcountry skiing in large part due to their enjoyment of skiing. Of course we all love the adventure and the solitude, but it's usually the desire for a few more powder turns that motivates us to push to the summit or skin up for that extra lap.
There are, however, some folks who start backcountry skiing with little to no downhill skiing experience, like my mother who didn't grow up skiing or boarding. Her desire to learn to ski tour came from wanting to spend more than just the summer months in the mountains. For her 'steep and deep' isn't a good thing, all she wants is a beautiful day in the mountains away from crowds. The Canadian Rockies offer by far the best ski touring experience in Canada for those like her. Below are her favourite tours in the Canadian Rockies, which other non-adrenalin-seeking ski tourers might enjoy.
Chickadee Valley: Park at the Great Divide parking area along Highway 93 and begin across the highway. Although the trail is unmarked, it is very well travelled in winter and easy to follow. Travel up the valley and enjoy some of the best valley-bottom views the Rockies have to offer. Along the way you can stop at any of the many avalanche paths to enjoy some mellow turns, just watch out for overhead hazard.
Skoki Lodge: Skoki is one of the Canadian Rockies oldest ski lodges, and is perfectly suited for those new to skiing. After taking the gondola up the Lake Louise Ski Hill you can chose either a green, blue or black run down the backside to start the tour. The 11km ski into the lodge crosses over the gorgeous Deception Pass, but don't worry the ski down the backside is open and mellow. Make sure to book a room at Skoki long in advance as it is quite popular year round.
Bow Summit: This is one of the most well known tours in the Canadian Rockies, likely because it offers the shortest approach to get some quick turns. Leave the Bow Summit parking and travel up the slope. Quickly the forest thins and you get fantastic views down to Bow Lake. Very close to the parking area you can find mellow slopes to play around on, however others can continue up to find more exciting terrain.