Loveland Pass Ski touring
The SIA On Snow Show finished up a few days ago but the Backcountry Skiing Canada crew decided to stick around and see if we could find any fresh lines at some of Colorado's renowned ski touring locations, today it was Loveland Pass. With a base out of the Holiday Inn Summit County in Fresco, our commute was under 25 minuted each day. The good folks at Loveland Ski Resort (full trip report is coming so stay tuned) were kind enough to have us out for a few days of resort skiing. The resort itself is massive and offers endless above tree line skiing (up to 13,000'), hike to ridge skiing and backcountry access via their North and South gates. The snowfall is less than average this year in Colorado but after a day of warming up at the resort we were tempted to see what Loveland pass had to offer in the way of out-of-bounds skiing.
Loveland Pass is known for its high elevation backcountry skiing with an easy no hiking hitch-and-ski option. We were picked up in record time by one of Colorado's most colourful characters (to say the least) and shared the ride with Quinn who was good enough to show us where to find some left over Pow from last weeks storm cycle. Loveland Pass is a massive expanse of above tree line skiing with some short shots of protected skiing in the trees between the upper and lower switch backs of highway 6 (have a look at our movescount GPS data here). We didn't have much luck finding any left overs so we decided lap number two would be self propelled in the direction of Loveland Ski Resort (see the route here). We skinned up in the safety of the trees to a ridge which over looked both Loveland Ski Resort, Loveland Pass and the ever present Highway 70—the main artery from Denver. We were not surprised to find only about three feet of snow (roughly 60% of normal for this time of year) where the lower fifteen inches was pure depth hoar and the top inch was powder lightly covering a crisp sun crust – yum!
Needless to say the ski touring was not as good as the locals tell us it typically is but we'll be back as the terrain was some of the best we have seen.
(Click on the images below for a larger view)
Loveland Pass Hitch and ski program offers 215 meters of skiing.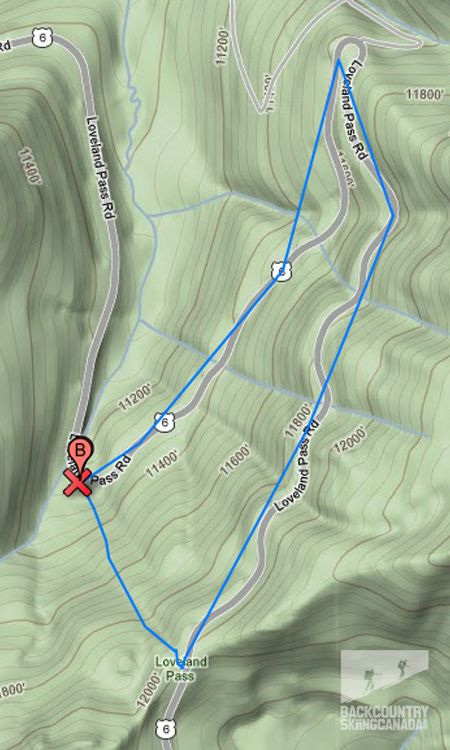 The starting point is Loveland Pass at 11,990 feet.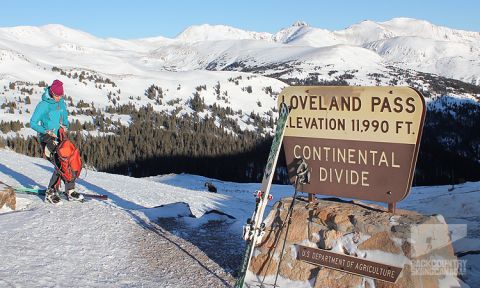 For those who prefer the self propelled option there is plenty to choose from.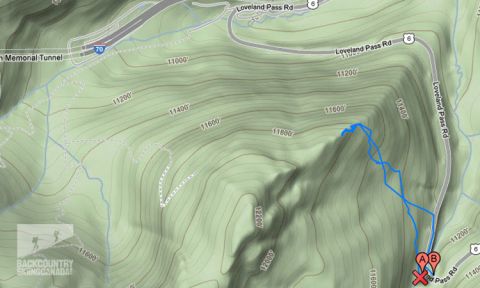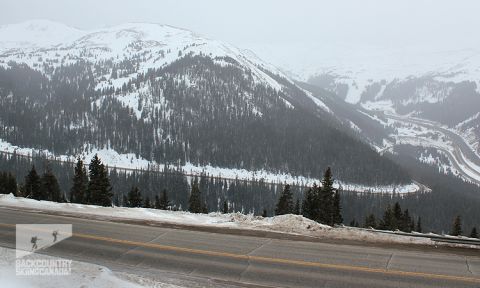 Nearing the summit ridge you can see part of Loveland Ski Resort in the background.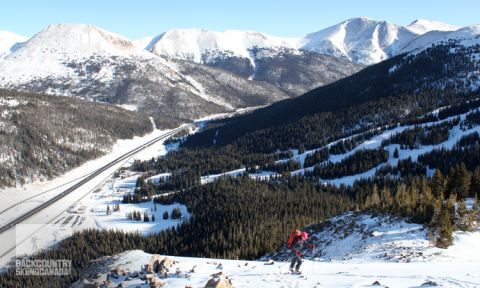 On the ridge the views were never ending and the snow pack less than typical.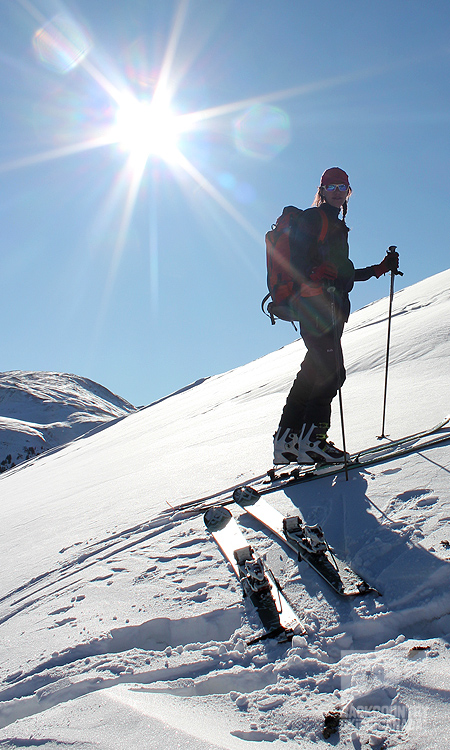 A short walk up the road and you are back at your car.