Comp - The Pilgrimage to powder
The gear is sitting beside the front door, the bags are packed, the anticipation reaches its peak, and its finally time to go. Every skier dreams of making the road trip to the mecca's of skiing. For some that is gracing the alpine expanse that is Whistler, for backcountry skiers that mecca has to be Rogers Pass. This magical place situated where the coastal storms meet the cold rocky air, produces snow of coastal depth with unmatched density.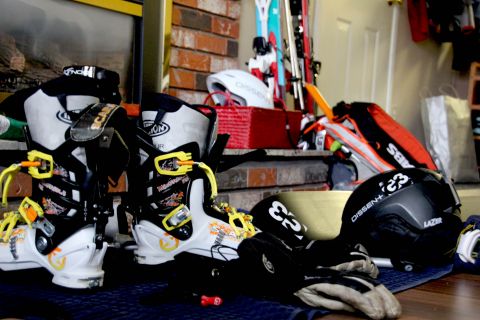 For some it is an annual pilgrimage and for others it is culmination of a lifelong dream. Regardless of whether it's your first time or twenty-first time for making the journey to Rogers Pass, each person is there for the same reason; to be surrounded by the beauty and endless stream of mountains and ultimately to ski bottomless powder. Deep in the valley the remnants of times gone by and the everlasting influence of the railroad is present. This place was once the playground only for the rich and the birth place of North American Mountaineering. Today the railroad and highway serve as essential trade link between eastern and western Canada.
This infrastructure now provides access to some of the greatest touring terrain in North America. Its wildness pales in comparison to the metropolis feel of Chamonix and the European extreme descent culture. Yearly people file in from all over the world to experience British Columbia powder at its best.
Everything in a ski season is building to this moment. From the first turns of the season, to the survival skiing, and the long days with limited light bashing through long coastal approaches. The fitness built in previous adventure combined with local knowledge allows the travelers to maximize their time.
Timing is often everything when making a pilgrimage where days can mean the difference between jubilation and disappointment. Catching a storm at its completion is nothing short of luck and reaping its rewards forms long lasting memories that carry one through the rough times. The longing for the mountains can be satisfied with the bottomless silky turns that the Selkirks provide.
Winter road trips are something different. A solo adventure though rewarding and challenging is a far cry from the satisfaction of group suffering. Each member is pushing their limits, more than on a typical day tour on any other given weekend, engraining the experience into their soul. What makes the road trips more fun is that it's not entirely about the skiing, but more about the overall experience and sense of adventure. Yes, we chase the snow storms and on a whim decide our next destination. We also embrace the charms of the small towns along the way, and become tourists in our own country and places we visit.
When one looks back at his/her life, it is these moments of joy, satisfaction, suffering, and laughter that leave no regrets of business unfinished.