Backcountry Ride Share
Both of these resources are mainly focussed on the US (for now) but with gas hitting a buck-18 it will only be a matter of time before something like this hits Canada. (we hope)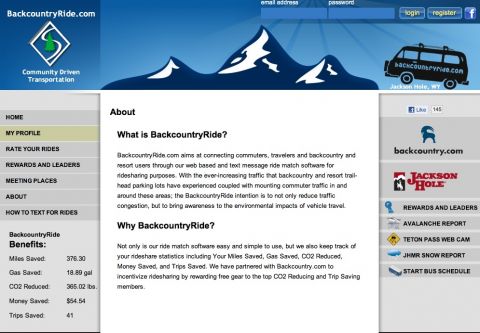 Backcountryride.com
Backcountryride.com began with the idea of eliminating traffic congestion on Teton Pass by providing a shuttle service. After learning about the many obstacles businesses and organizations have encountered with the Wyoming Department of Transportation in organizing a shuttle service, it was understood that a different and innovative approach was needed.
Imagine public transportation, but with the ability to create the schedule on your own terms. You will have the freedom to do this with Backcountryride's community driven transportation network, a free car pool network that connects you with other users offering rides or looking for rides.
Backcountryride.com's concept is simple, they have created a program that accommodates your agenda and will notify you when your desired car pool is matched. You also have the ability to search our database to see if any other users in the network can accommodate your commuter schedule. Because their system is web based it is easy for us to notify you by e mail once our network has found a match for your desired car pool.
Backcountryride.com is unique in that they are the only online car pool network known that has incorporated a text message application for on the fly rideshare matches. They have designated certain codes that our database will recognize, whether you are attempting to make a car pool or simply searching for passengers or a ride.
They also show how good you have been to the planet by showing you miles, Gas and C02 saved – so now you can earn your turns totally guilt free.
Check out the concept here.
theskilift.org
Whats better than car pooling to go backcountry skiing? Car pooling to go hit the hill. This service is much needed at our local hill as the parking is a nightmare even though many people hitch hike – we need a system that gets people talking, sharing and saving,… ok now everyone hug.
Some of the features of the website include:
Carpooling or ridesharing, where members can fill empty seats in their cars and make a little cash, or save money on gas by finding a ride.
A global list of ski resorts that includes an almost entirely comprehensive list of every ski resort in every country in the world.
User ratings to keep people honest and give carpoolers a way to warn other members of a bad driving experience.
A social network that allows members to search for, befriend and message people, or find those with similar preferences to carpool with.
A posting wall – see what people are up too and catch updates from friends.
Check out the concept
here
.
So who out there is going to get the ball rolling on this one?
Come on now.