Must do Adventure: Juan De Fuca Trail
The Juan De Fuca Trail (JDF) is located on the western shoreline of southern Vancouver Island and is the poor cousin of the much more popular and renowned West Coast Trail but don't let this dissuade you, the JDF is a beautiful coastal hike through old growth trees, lush valleys and beautiful ocean views. The JDF is shorter than the 75km West Coast Trail but it's just as challenging and rugged, and it has much more elevation gain than the West Coast Trail. While the JDF is not a remote hike like that of the West Coast Trail it is easier to access and possible to do in sections should you choose. There are four trailheads on the trail with the most popular being at China Beach and Sombrio Beach, but you can also access the trail at Parkinson Creek and Botanical Beach. The Trail is a rugged wilderness hiking trail located within Juan de Fuca Provincial Park located 35 km west of Sooke and goes from China Beach to Botanical Beach just outside Port Renfrew. It was established on April 4, 1996 and is 1,528 hectares (1,381 ha upland, 147 ha foreshore) in size.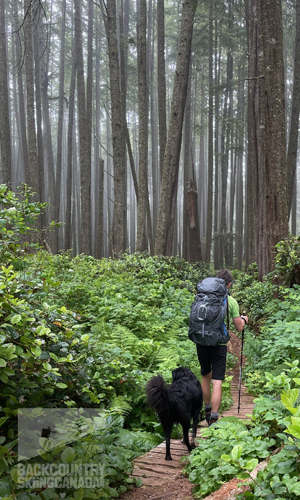 At 47km in length, most people take four days to complete the JDF taking their time to enjoy the different personalities of each campsite and the views that abound along the way. There are two options for hiking the JDF, you can start at China Beach to the south or Botanical Beach to the north. Most people hike south to north as the trailhead at China Beach is closer to the city of Victoria and requires less driving but if you are shuttling a car then it really makes no difference as you have to drive the full length of the route anyways. We chose to hike from Botanical Beach to China Beach (north to south) for many reasons, the most important of which is that our packs would be much lighter before the more challenging up and down section of hiking from Chin Beach to Bear Beach. While the trail is never far above sea level there are more than 15 valleys to traverse so the up and down of each valley adds up and having eaten 80% of our food before this section sure make a difference with your pack's weight and therefore increases your endurance on this section of trail. We also wanted to get away from the crowds that inevitably show up on weekends to hike the southern section of the JDF. The choice is up to you as there are no right answers here and you'll have the same views and much the same experience either way.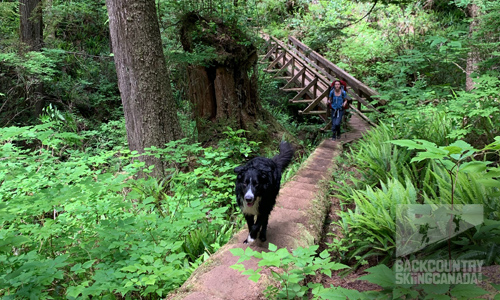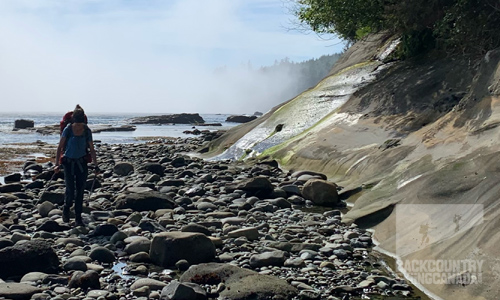 Rather than break the hike down into four easy sections of about 10km per day we chose to have two long days, one short day and one rest day to take in some surfing at Sombrio Beach. We had a friend meet us to bring in some fresh food and surfboards to enjoy the day at what is the best beach along the hike, albeit the busiest as well.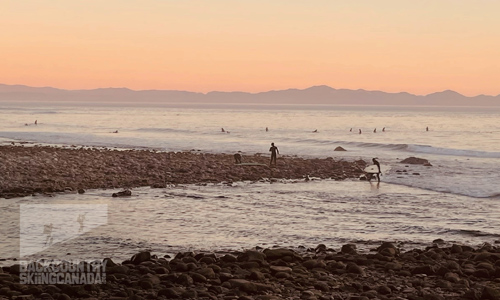 We chose to hike the JDF in late June just after a very long dry spell so the mud on the trail was minimal but still present in sections. We did not have to use gators, although hiking poles did come in handy to navigate these mud pits. Along the route, we had no rain which made things a lot easier but I can imagine that the forest and vegetation really lights up when there is a mist in the air or rain falling. While this would make the trail much muddier it would have been nice to see the coastal environment in its natural element. We also chose to bring along our Border Collie/Aussie Sheppard dog who thoroughly enjoyed every inch of the trail, while dogs are allowed they are required to be on a leash.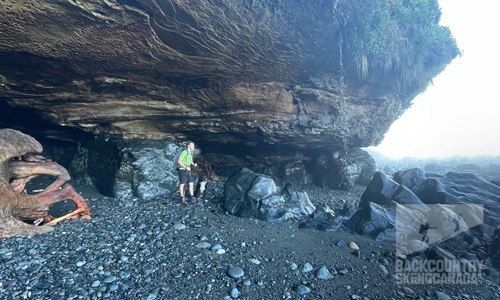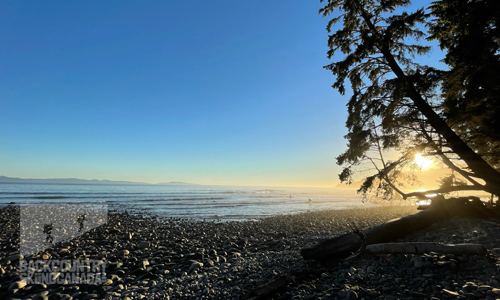 Day one on the trail was a big push although not overly strenuous, from the trailhead at Botanical Beach to Sombrio Beach took us a total of 7.5 hours to cover the 18 km at a relatively moderate pace. We bypassed the campsites at Payzant as they were simply too close to the trailhead at Botanical Beach and the camping at Little Kuitshe was up in the woods without any beach access—not what you want on a coastal hike. If you plan on making Sombrio Beach a stop to camp along your journey be sure to stop at Sombrio West as there are tent platforms and far fewer people than on the East Beach. East Beach also doesn't have many official camp spots so most people camp on the sloping beach itself and on one of the nights we were there a king tide rolled in and flooded everyone out in the middle of the night. As we left camp on day three at 6:00 am we viewed the carnage from the high tide that night, not fun. We were able to find an ocean view platform to camp on and enjoyed our two days at Sombrio with some well-deserved relaxing and surfing on some decently sized breaking waves.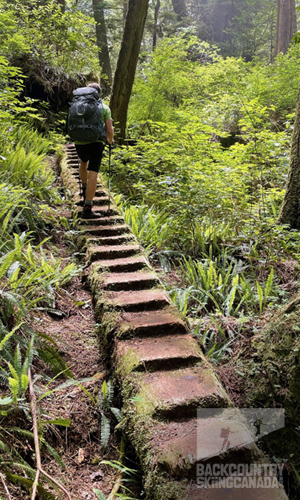 Day three took us to Bear Beach which was another 7.5 hours day and 20 km of walking, this was a more difficult section, however as the trail was constantly climbing and descending into each of the valleys that had to be crossed. While not overly strenuous and nothing like climbing a mountain it did make for a slower than anticipated pace and accounted for the majority of the 1,828m / 5,997ft of elevation gain over the length of the trail. Once we arrive at Bear beach we were rewarded with what we thought was the best camping on the entire trail. Rather than camping in the organized camp spots in the woods we chose to go past these and found a few nice spots right on the beach tucked up onto a grassy plateau just big enough for our tent and our gear. The stream that flowed into the campsite made for an ideal place to stay cool, get drinking water and enjoy the slow pace of hiking the Juan De Fuca Trail.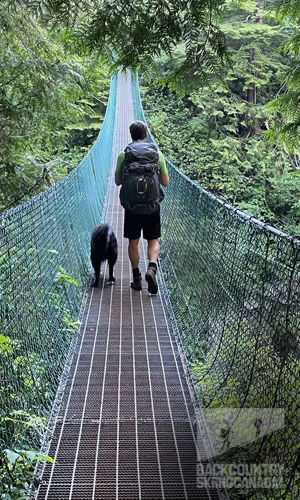 Our last day on trail was a mostly flat 9 km walk from Bear Beach to China Beach which we easily covered in three hours. This was definitely the easiest part of the entire hike. After 47 kilometres of walking through the dense coastal forest with some of the trail on beautiful pebble beaches, we saw waterfalls, old-growth trees, suspension bridges, and only the occasional mud pit. Definitely a hike that you should consider, even for those that are new to multi-day hikes, this is one that is easily trained for and totally within your ability.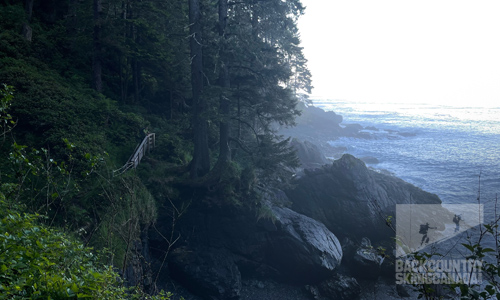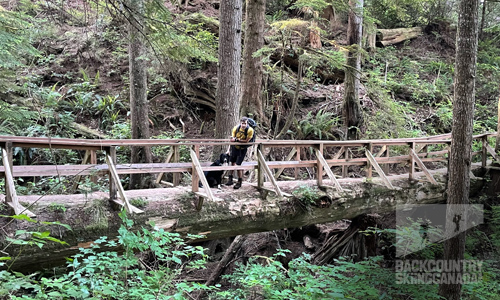 A few things to note about the JDF trail is that you do have to be aware of the high tide schedule and read the tide tables to ensure that you can complete the portion of the trail that goes along the beach, otherwise you may have to wait until the tide is out and these sections become passable. Also, the trial's infrastructure is crumbling, most bridges and stairs are in desperate need of repair and although some have been rebuilt more work is required so please be sure to pay your camping fees for each night you are on trail as these funds will be put to good use.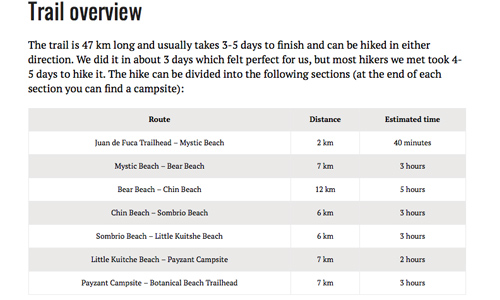 For a detailed map of the JDF check out the GPX file I uploaded to Fatmap here.