Danny MacAskill's latest video 'DO A WHEELIE'
May 10th has always been internally been celebrated as 5.10 day since the brand's founding in 1985, which makes sense 5.10 = May 10th. In honour of this, they have released a new movie with Danny MacAskill called 'Do A Wheelie'.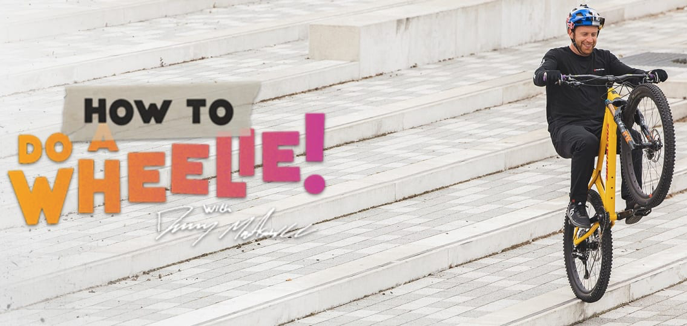 In the summer of 2021 Danny MacAskill put out a call to action to his 3.5 million social media fans asking them to #WheelieWithDanny. Riders and fans applied from around the world to feature alongside Danny in his latest project from adidas Five Ten and Cut Media. Join Danny MacAskill and a host of friends as he pushes the boundaries of the humble wheelie and learns a thing or two from friends old and new.
There is something instinctive built into us, no matter our age. From the first moment we put a leg over the frame of a bike and begin to pedal something takes over, we are drawn to tug on the handlebars and lift the front wheel off the ground. The endorphins rush and a sense of shock turns to a smile – this is how it often begins, doing a wheelie for the first time. The humble wheelie is a gateway into a whole new world that for many will become a lifelong passion. For Danny MacAskill his first wheelie would be the start of an incredible career, in his latest film 'Do A Wheelie', Danny shows just how much he loves some back wheel action.
Watch the insane talent of Danny MacAskill in his new video, enjoy: In addition to the new film, adidas Five Ten Teamed up with Danny MacAskill to provide a tutorial on how to ride a wheelie. Head
here
and learn how to do a wheelie with Danny Macaskill. Once you have mastered your wheelie, upload your best attempt to Instagram and challenge 2 other friends to #DoAWheelie
" I have seen first-hand the popularity of bike riding explode over the last few years and it puts a smile on my face to see so many people loving getting outside on their bikes. Working with adidas Five Ten, we wanted to make a film that included as many types of riding as possible and let other riders become the star of the film. The wheelie was the best place to start, if you can ride a bike, you can have a good go at doing a wheelie and from there the opportunities are endless. We wanted to celebrate the wheelie, show how accessible riding bikes can be and put a smile on people's faces. If someone picks up a bike and has a big grin trying to wheelie, then job done."
– Danny MacAskill