New Record: Bugaboo to Rogers Traverse in 53.2 Hours
A few days ago Greg Hill, Adam Campbell, and Andrew McNab set a new fastest known time on the iconic Bugaboo to Rogers Pass Traverse. This is a famous traverse in eastern BC that crosses portions of the Purcell and Selkirk Mountain Range and puts it in the same realm as the Wapta Traverse, Spearhead Traverse, and even the Haut Route. 
Bugs to Rogers covers 130+ km with 0ver 30,000 feet of elevation gain and loss with many large glaciers, alpine ski descents, and opportunities to climb rebound peaks such as Mount Wheeler, Grand Mountain, Mount Conrad, and Mount Sugarloaf. Most people take the better part of a week to complete this traverse but the Hill-Campbell-McNab team completed it in just over 53 hours which is a huge accomplishment when you consider that the
last record set by Troy Jungen, Douglas Sproul and Jon Walsh
back in 2005 was 80 hours which was ridiculously impressive at the time. The traverse was first completed way back in 1958 by Bill Briggs, Barry Corbet, Sterling Neale, and Bob French and it took this group 9 days to complete it, which puts into perspective why this new record of just over two days is so impressive.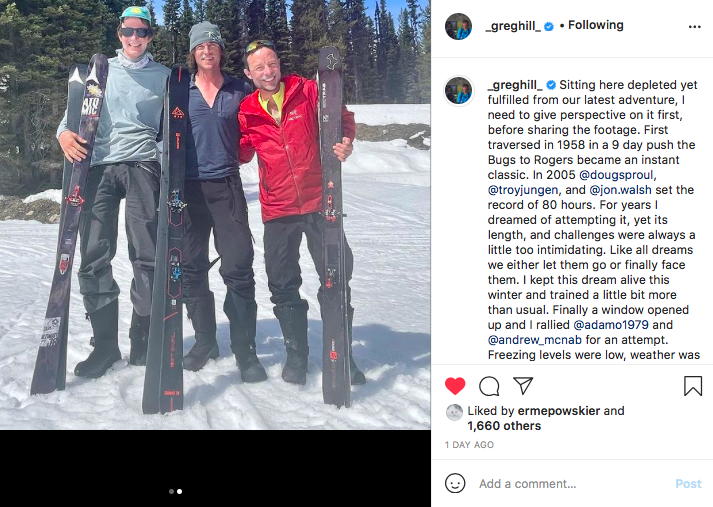 Congrats go out to Greg, Adam, and Andrew on such a monumental accomplishment and raising the bar so high on such a challenging undertaking.
Be sure to follow them on Instagram as they will no doubt have some amazing photos and details to share:
Greg Hill
Adam Campbell
Andrew Mcnab