Fall Paddling Hit List: Bowron Lakes
If you're a paddler of any sort you've likely already heard about Bowron Lakes and if you haven't, well, you're about to. Bowron Lake Provincial Park is located just over an hour's drive east of Quesnel  British Columbia which is a solid five hours north of Kamloops, so it's kind of in the middle of nowhere. Like all good things, however, the effort required to get to Bowron Lakes and its isolation is also part of its charm.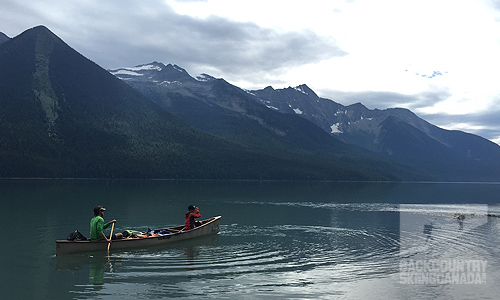 Most people typically canoe the circuit but some also kayak it as well, I have yet to hear of anyone paddle boarding it so perhaps there is a record waiting to be written? Twelve lakes that make up the route which starts and end in the exact same location which is the "wow" factor for this circuit—no shuttle required. The lakes form an almost perfect quadrilateral, for those techies, this is referred to as a polygon with four sides in euclidean plane geometry, for us laymen, it's a falling over square. You can see what I mean here in the Park's detailed map.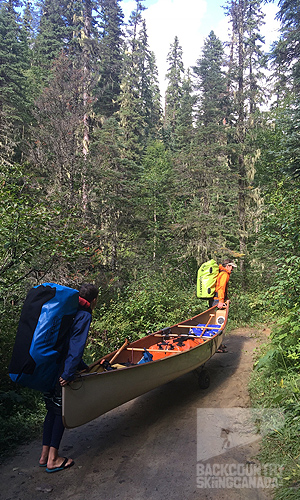 Covering approximately 116 km this is a serious paddle, but break it down into 15 or 20km chunks and you have the makings of an easy 5 or 6-day canoe trip that anyone can complete. Since this was my second time paddling the Bowron Lakes circuit I knew the in's and out's of where to camp and what to bring but if you are looking for some good first timer tips then check out the "Top ten tips for paddling Bowron Lakes" post over here.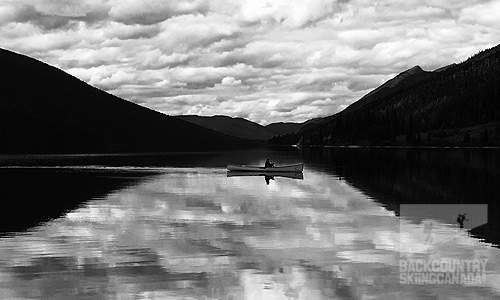 Given that there is 10 km of portages you'll need to pack like it's a backcountry trip since it actually is. Go lite and skip the luxury items as the first day has 6 of the 10km of portages. You'll be glad you left the camp chair and bottle of red wine at home. Once on Isaac Lake, you've got a few days of rest since you are on the big lake, if you can call paddling 20km/day a rest. The next day brings the only technical section on the entire circuit, a section of whitewater known as "Th Chute". Not to worry, however, there's a walk around and if you are not a fan of rapids you can portage the entire thing. After this comes the silt laden waters of the Cariboo River. Be aware and watch out for dead heads and sweepers. Neither of these are Grateful Dead terms but rather refer to logs that are either partly submerged or are obstructing the river and waiting to strain you and your canoe like cooked pasta. On this trip, we were surprised by a tree blocking the entire width of the river and only fast thinking ensured we could eddy out prior to any mishap. 
Things then get more chill as the landscape changes dramatically. The next two lakes, Lanezi and Sandy Lakes could not be more different in their views and makeup. Following these, Unna Lake is a 'must camp at' sandy beach and offers up an impressive waterfall hike so be sure to make time for that. Three more small portages complete the canoe ferrying part of the trip and take you quickly through Babcok and Skoki Lakes. Following these are Spectacle and Swan Lakes which are busier as this is the short route that can be completed in just a few days from the park HQ. If you are not up for the full 116km circuit than this is a good option, but the full meal deal, is so much more worth it so why not just give it a try. The last day of paddling takes you through abundant moose territory before entering Bowron Lake proper. This often windy lake is your last one prior to taking your canoe out of the water and completing the full circuit.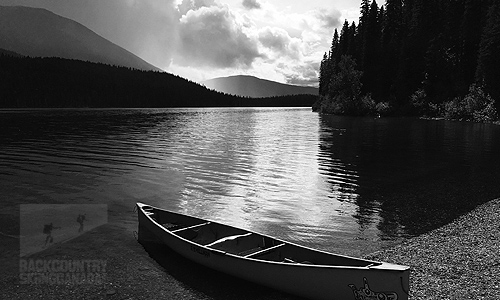 For all the details on Bowron Lakes have a look over here as I tracked (almost) the entire route using the Mountain Hub app. A few forgetful moments has the total distances not quite measuring up to the full 116km, but most of the info is there so it's worth a look.

Bowron Lakes is a special place and within the reach of anyone's ability if you have moderate fitness and solid canoeing skills. It had been on my 'to do list' for some time and after completing it two years ago I knew I wanted to go back and show it to my son, it's just that special.