Women's Rab Snowpack Down Jacket - Review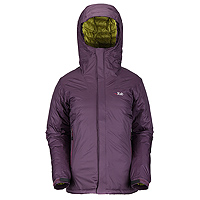 The Snowpack is part of Rab's 2014 line-up of waterproof down products. Not only does the Snowpack have hydrophobic down on the inside (as do all of Rab's down jackets for 2014) it also has waterproof fabric on the outside making this a great jacket for cold and damp conditions. The Snowpack Jacket is a waterproof version of the Alpine Microlight jacket, which has been a staple in my closet for several years now. My favorite thing about the Snowpack Jacket, and the main reason I didn't want to be parted from it, is that it is super comfortable; like curling up in a big cozy sleeping bag. When you live in the Rockies but hate to be cold a warm, a comfy jacket is a wonderful thing.
Read the full review of the Rab Snowpack Down Jacket here.