NEW - Skinners Multipurpose Pocket Footwear
Skinners sock shoes piqued my interest recently while I was on the lookout for some multipurpose amphibious footwear that would save my sole(s) on paddle boarding, hiking and surfing adventures.

When I first heard about Skinners my curiosity was peppered with scepticism. I'm a fan of multipurpose, lightweight and practical gear but there didn't seem much to them, I mean they're a sock, right? Or are they? Is this just another gear gimmick?

Here's a view from the side as I tried them on for size shortly before taking them on a river trip - more on that in a moment.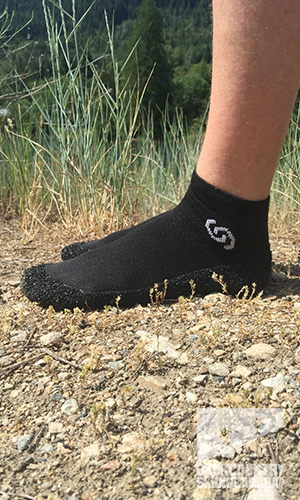 The design started out five years ago as an idea for a friend recovering from an injury then was launched via a Kickstarter campaign two years later. Today, each pair is handmade in the Czech Republic using a patented fusion technology to coat the lower inch of a 3-layered antibacterial stretch-knit sock with a 2mm double-layer of Swedish phthalate-free polymers. (Phthalates are toxic chemicals known to have some nasty effects on health including cancer.) Here is a view of the rubbery sole: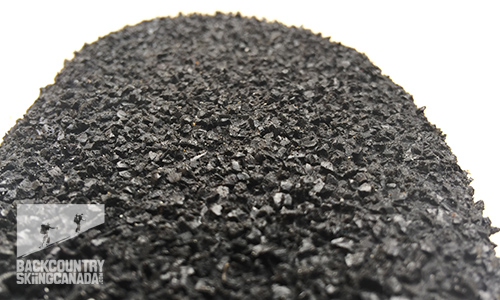 So how do they measure up? They have been my paddle boarding companion for the last few weeks where I've used them on the board, in the water and hiking on shore. As an amphibious shoe, I LOVE them.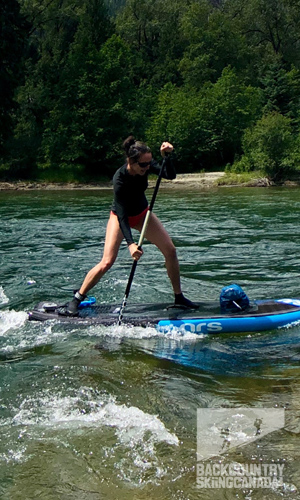 They grip to the board like glue without compromising responsiveness. I can still feel the board with my feet and there are no drainage issues which puts them way ahead of any other paddle shoes I have tested. These sock/shoes are ideal for paddle boarding and seem well adapted to other light-foot adventures as well.

Walking on the ground your feet are protected but as my teenage off-sider put it 'you still feel all the pointy bits'.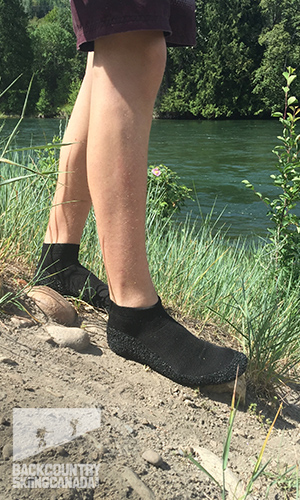 The same teenager also preferred bare feet because he didn't want to look like a dork. I am not a teenager so I don't care about looking like a dork (and I don't think they look dorky), I also care about my feet and how they feel. Skinners weigh a teeny 80g / 2.8 oz – lighter than any pair of shoes or sandals that I own, which makes them well adapted to any situation requiring a light-foot, agile and grippy approach. I can see them useful as travel slippers, climbing approach shoes, gym or yoga footwear. I intend to pack them on backpacking adventures this summer to give my feet a rest in the evenings.

There are no adhesives used in their manufacturing so they won't degrade with water and you can throw them in a washing machine – very handy. Speaking of handy they also come with a travel case which keeps any sand and mud residue contained.

Skinners won't break the bank, you can pick them up for around $75CAN / $60US. They are unisex and come in six sizes and five colour variations. There are two editions—Black and Athleisure— with the Athleisure series offering the colour variations and a 1cm / 0.4in lower cut on the ankle. I wear a women's US 8.5 and tested the medium size, I was on the cusp and could have gone for a small (though the extra space hasn't been an issue), best to try in store if you have the chance.