Skilogik Piton Ski - Review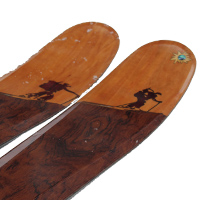 One of Backcountry Skiing Canada's 2013 'Gear of the Year' award winners was the Skilogik Yeti skis. The Yeti skis blew away all my expectations due to their light weight and ski anything personality. It was therefore hard for me to imagine how such an effective all round ski that mastered the backcountry and yet was still able to confidently ski the resort could be improved upon. At just 3300 grams per pair the Skilogik Yeti skis are one of the lightest skis on the market given their 105mm waist. To improve this ski's prowess as a dedicated backcountry ski the only logical area to tinker with would be the weight. Enter the Skilogik Piton Skis. The Pitons are 100 grams lighter than the Yetis thanks to the tips, waist and tail being 9mm, 11mm and 6mm narrower, respectively. This size reduction accounts for most of the weight savings since aside from this the Skilogik Pitons appear to be identical to the Yeti skis, which is a good thing.
Watch the video review below then click on through to the full review in our ski review section over here.