Rab Summer Clothing 2013 - REVIEW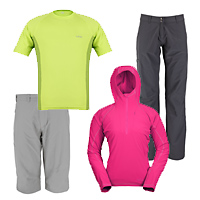 Here is the review of all the Rab gear you can win in this months Summer Stoke Comp and also where you will find the answer to this months questions to win said gear. Give this review a read over here and then enter your answer to be eligable to win a complete Rab set-up for him or for her by entering over here.
Here's the start of the review to get you going:
Some of Rab's new and updated product for the summer includes the Aeon Tee, Men's Vertex Short and Pant, Women's Helix Capri and Pant, the Men's Boreas Pull-On and Women's Aurora Pull-On. All are ideally suited for most spring/summer/fall adventures, however, the tees and pull ons in particular could also be used for spring backcountry skiing and/or mountaineering as well as touring baselayers all-year round.
We have been reviewing Rab gear for the last three years now and the gear that they manufacture has consistantly demonstrated quality and durability. The bombproof Latok Hardshell still looks great and performs after two solid seasons and the Exodus Soft Shell Pant is still my go-to touring pant. Last year we tested the waters with some of Rab's summer or 'off-season' clothing which also turned out to be keepers.
Keep on reading over here.