Rab Neo Guide Jacket and Pants - REVIEW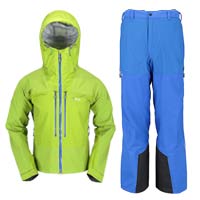 The Rab Neo Guide Jacket and Pants are a new hard shell combo designed specifically for the alpine sports of backcountry skiing, climbing and mountaineering. While their respective feature list may look extensive, Rab only integrated features that really matter, keeping the jacket and pants light and compact.
On both the jacket and pants two weights of Polartec Neoshell fabric are used with the heavier weight providing needed reinforcement in the shoulders, elbows, cuffs and hips. Neoshell is a highly breathable 3-layer fabric with superior stretch compared to other waterproof/breathable fabrics, allowing for a greater range of motion required in mountain pursuits like ski touring and climbing.
Read the complete review of the Rab Neo Guide Jacket and Pants here.