Optic Nerve Boreas Rocker Goggles and Grifter Glasses - REVIEW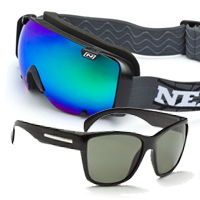 Two outdoor enthusiasts in Colorado founded Optic Nerve in 1976. They sell a huge selection of primarily sport-focused sunglasses in the affordable range of $40 - $80 and a small selection of snow goggles for $80 - $120. Optic Nerve claims: "we don't pay zillions to sponsor athletes, so we can sell our shades for less." I had never heard of Optic Nerve before starting this review, so my aim was to see if they were of similar quality to the big name goggle and sunglass companies, just with no money spent on advertising.
We tested the Optic Nerve Boreas Goggle and the Grifter polarized sunglasses - read the full reivew over here and find out what we thought of them.