mountainFLOW Eco Wax - it's time to change the way you wax! - VIDEO
Did you know that nearly all the conventional ski wax currently on the market is made from petroleum products? It's full of harmful chemicals that ultimately end up in our watersheds which is obviously not good. With the average skier and boarder waxing their gear a few times a year and ski rental operations waxing their skis and boards daily, this all adds up to a heap load of chemicals making its way into our environment. We're talking on the magnitude of 2.5 million pounds of the stuff!
So what's the option?
How about a plant-based wax made from wax and oils that's not harmful to the planet and totally biodegradable. This is exactly what mountainFLOW Eco Wax is all about. It performs just as well as traditional petroleum wax—I know as I got to ski on it at the recent Meteorite PR Adventure Camp which preceded the Winter Outdoor Retailer Show in Denver Colorado this week.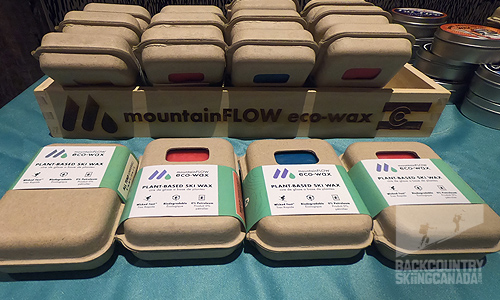 mountainFLOW Eco Wax comes in various temperature ranges: cold, cool, warm and all temp. If you are looking for a rub-on wax, they do that too. They also produce a line of skin waxes in a solid and spray on versiosn to help prevent glopping and improve overall skin glide.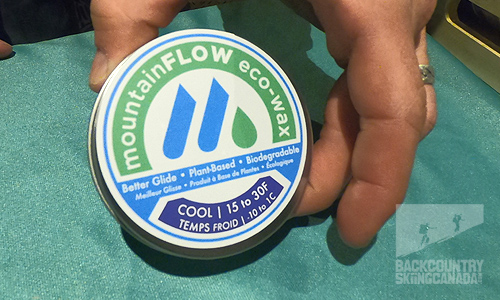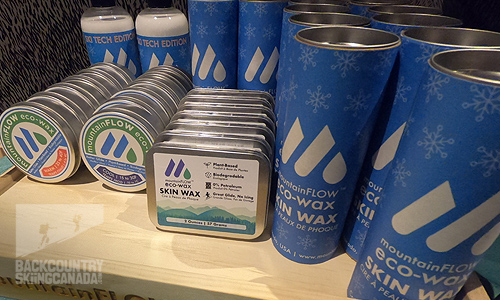 It's time you start to think about your ski wax and what it's doing to your local environment and how mountainFLOW Eco Wax can help lessen your impact. Check it out, this stuff rocks!