Mountain Hardwear Torsun Jacket - REVIEW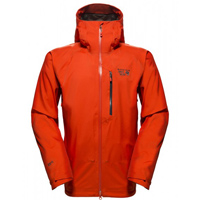 The Mountain Hardwear Torsun Jacket is a three layer jacket that utilizes the companies Dry.Q™ Elite waterproof-breathable membrane. Designed for high-intensity alpine activity, the Torsun has been designed to offer a high level of articulation.
The Torsun is constructed with a three layer, 40 denier fabric designed to withstand hard use, and harsh climates. The jacket is also constructed with several of Mountain Hardwear's other proprietary technologies.
Seeking to improve on the waterproof-breathable membranes currently available, Mountain Hardwear developed Dry.Q Elite. The company claims that unlike traditional membranes which require a high level user exertion, like cutting a skin track through knee deep powder, Dry.Q starts transferring moisture regardless of temperature or level of exertion.
Read the full review of the Mountain Hardwear Torsun Jacket here.