Marmot Essence Jacket - Review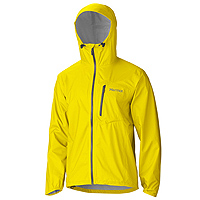 I've had the Marmot Essence on the coat rack for about a month and it's been out with me on over a dozen outings. The Essence is a completely paired down waterproof breathable shell. It is ultra light, truly. The newest generation comes in at under 6oz, 5.7oz according to the manufacturer. It scrunches up small enough to be in a pack and forget item, and the ultra-bright yellow colour can be used to signal passing aircraft in the event of a backcountry emergency. It also comes in red and blue, or black for you backcountry ninja types.
The reason I've had the Marmot Essence with me on so many outings is simply because it's barely noticeable (if you're not talking about the, brighter than the sun, safety yellow quality that is). Out of the package the Marmot Essence rolls into a ball roughly the size of a thick pair of socks and weights about the same.
Read the full review of the Marmot Essence Jacket here.