Marmot Artemis Jacket - Review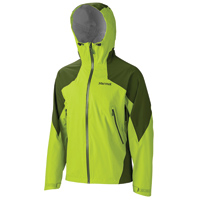 Marmot has been on a bit of a tear lately with several very positive back to back reviews here at Backcountry Skiing Canada. Two recent winners are the Marmot Nabu Jacket which uses Polartec Neoshell fabric and the Marmot Isotherm Hoody which uses Polartec Alpha insulation. While the Marmot Artemis Jacket we're reviewing here today does not use a Polartec fabric I had to take a second look to ensure this was actually the case. I say this because the Artemis is so soft and stretchy it feels very similar to the Neoshell used on the Nabu Jacket. In fact I consider the Marmot Artemis to be a lighter version of the Marmot Nabu Jacket thanks to its softshell feel and hardshell performance. Instead of Neoshell, the Artemis uses a 2.5 layer lamination technology Marmot calls NanoPro Membrain™. This allows the Marmot Artemis jacket to be lighter, more compact and easier on the wallet than other similar jackets.
Read the full review of the Marmot Artemis Jacket here or see other Gear of the Year Winners here.