La Sportiva Boulder X shoes - REVIEW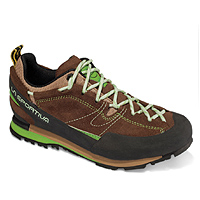 The La SPortiva Boulder X shoe is part of a long line of well-made, innovative hiking and approach shoes by La Sportiva. The most notable features of the shoes are its durability and comfort. They're useful for a variety of adventures; long talus fields, technical scrambles, rugged accents and hiking.
The lofty 5 layer constructed sole is topped with 2mm polypropylene LaSpEVA insole, providing superior cushioning to keep your foot comfy on long treks. Included in those layers are the Vibram Lite Runner sole, which provides extra cushion and comfort on uneven slogs. The 2.5mm composite moulded nylon Trail Bite Shank provides stability and pronation control amidst natural foot flexion, creating an incredibly supportive flexible low profile boot! The built-in EVA MEMlex absorbs shock on shifting descents and the RockShock shock absorbing EVA heel plate prevents rock bruising.
Read the full review of the La Sportiva Boulder X Shoes here.