Kuhl Performance Clothing - REVIEW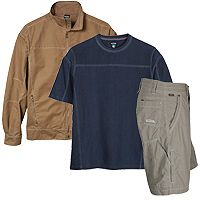 Kühl designs and manufactures clothing from performance fabrics for those who enjoy an outdoor lifestyle. Their clothing is innovative and full of features that improve fit, comfort and versatility for mountain adventures. As a bonus, they also look good enough to wear around town or even go out on the town. 
Kühl is certainly pushing the boundaries with new features and fabrics in clothing; they have a way of making clothes simple while incorporating a lot of great features. For example, little details like contrasting stitching on their Flat Lock Seams or beefy zips and rivets go a long way to increase the quality of the products.
Furthermore, their combination of wool and micro-fleece (called Thermokre) is great because it feels super warm and it looks almost as comfy as it is. Also, the Wildfibre organic cotton makes the Kühl Thunder T-shirt more than just an ordinary T-shirt. We also found that, with all of the products we tested, gusseting played a big part in the comfort of the product as it ensures a full range of motion for most activities.
There is plenty more to read about in the full review on our gear review pages over here.