Fritschi Diamir Eagle 12 Binding - Review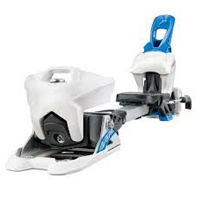 Diamir's Gliding Technology has enabled construction of a baseplate that moves to allow full release capability, even in difficult uphill situations.
The Fritschi Diamir Eagle has also been constructed with the touring pivot being set back 23 mm, which promotes a more natural uphill stride as the foot is allowed to roll more fluidly, so comfort is greatly enhanced while breaking trail.
The rotating toe piece meanwhile allows lateral release with elasticity of 20mm from left to right. Combined with the high restoring force, this reduces the number of unintentional releases to a minimum.
Read the full review of the Fritshi Diamir Eagle 12 over on our gear review pages here.