Five Ten Anasazi Arrowhead climbing shoes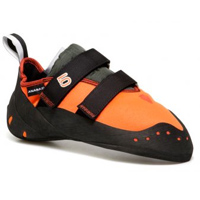 Before I begin this review I'll confess that I'm an Anasazi aficionado. I've worn Five Ten's VCS version of this shoe for the past six years and used it on everything from overhanging sport routes in Kalymnos to multi-pitch alpine epics in the Valhallas. The VCS is, in my opinion, the best all-around climbing shoe on the market and the Stealth™ Onyxx™ rubber on its sole is the stickiest on earth. So when Five Ten announced they were making a high-performance version called the Anasazi Arrowhead, I was keen to try it out. The main difference between the VCS and the Arrowhead is the latter has a more aggressive, down-turned toe which maximizes the power you can extort from your forefoot. This translates to two things: firstly, the Arrowhead is a better shoe for tackling hard projects and secondly, it will take longer to feel comfortable in them.
Read the rest of the review on our Off-Season Gear Review Pages.