Exped DownMat UL 7 LW - REVIEW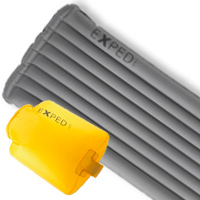 A good night's sleep is crucial, especially if you are exerting a lot of energy carrying a heavy pack on a ski traverse or simply yo-yo'ing a skin track all day laying down line after line. Often the quality of your sleep depends on your comfort and warmth; two things for which a good sleeping mat is crucial.
For years I scoffed at any type of padding to sleep on. "Who needs that luxury?" I would think. In my 20s that was fine but having cracked 40 recently, I now enjoy the added comfort and have changed my thinking to "the bigger the better". I also find for winter camping a mat is a necessity to keep you warm as it provides an insulating layer between you and the snow.
Although I am now definitely a sleeping mat convert, I still find that it is important to have a sleeping pad that while providing warmth and comfort it also does not add too much excess weight to your pack. For the past few winters I felt I had struck this balance with the Exped DownMat 7, but now there is an even better version: the Exped DownMat UL 7 LW, where "UL" stands for ultra-light and "LW" for long-wide.
Read the full Exped DownMat UL 7 LW review over here.