Endeavor Next Snowboard - REVIEW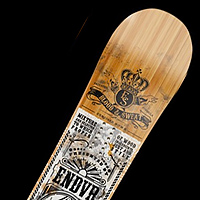 Endeavor Snowboard Design is a small grassroots company run out of Vancouver BC with the ambitious goal of making the best snowboards in the world. Endeavor has a heavy focus on the Urban and Park aspects of snowboarding, but I think it is likely pretty hard for them to ignore the mountains in their back yard so the designers at Endeavor gave birth to the Next; a stiff, all mountain board designed for the natural terrain.
The Endeavor Next is has a very nice traditional, directional shape to it. It has full-length camber, a slightly higher profile nose and an aggressive tapered side cut. It features a poplar/fibreglass core with a Y shaped carbon stringer. That core is sandwiched between a Sintered 7500 base and a beautiful bamboo top sheet.
Read the rest of this review on ourt Gear Reveiw Pages over here.