Dynafit Zzeus TF-X Alpine Touring Ski Boots - REVIEW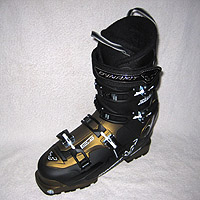 I've had many pairs of boots over the years. I guess this pair of Dynafit ZZeus TF-X's would be about my 12th-or-so pair (my third AT boot). As I get older, my feet become a little wonkier and fewer and fewer boots seem to work for me. A pair of Denali TTs got sloppy on me, a pair of BD Methods pinched my heel and didn't have enough room in the toe area. I picked up the Dynafit Zzeus at the beginning of last season and I think I'll hold onto them for a while. Of course, at 2 kilos each, they are a little heavy compared to the new light and beefy offerings from many of the manufacturers this year. Sometimes even the most rabid gear fan (me) needs to settle down a bit and accept that what they have is pretty dang good.
Read the rest or the review here and then come on back and let us know what YOU think?