Colltex mohair climbing skins - REVIEW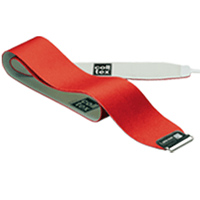 The Swiss-made Colltex Extreme 100 per cent mohair skins are the "premium" product from a company with more than 40 years experience producing high quality climbing skins. I had the pleasure of trying out a pair on my wider (110mm) skis over the course of the season and I was quite impressed with these skins, save a few minor gripes.
Mohair, a natural product made from the hair of an Angora goat (sheered from the animal without harm), has many redeeming qualities for a climbing skin, including light weight, good traction and impressively low friction. It's claimed to offer a 20 per cent reduction in drag over common synthetic climbing skins.
Read the rest of the review here on our Gear Review pages.