Altra's Lone Peak NeoShell Mid and Stash Jacket are game changers
Backcountry Skiing Canada caught up with Golden Harper at the recent Outdoor PressCamp event held in Deer Valley Last month. Golden is the founder of Altra Shoes and also a passionate runner and adventurer. He started Altra because he wanted shoes to fit and feel better. Altra shoes are based on two unique design principals, a Footshape Toe Box and Cushioned Zero Drop. What exactly are these and why do they matter? Glad you asked.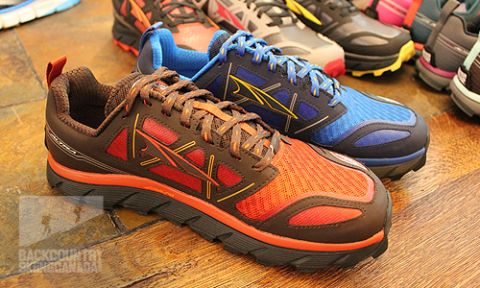 Footshape Toe Box
Shoes are not designed to fit your feet properly since they aren't really shaped like your feet. If you compare a traditional shoe to an Altra shoe (as Golden does in the video below) you'll see the difference in the shape of the toe box. A traditional pointy toe box leads to problems and injuries over time, where as a Footshape Toe Box provides enough room for you feet to naturally fit the shoe, which means your feet are happier. 
Cushioned Zero Drop
Most shoes have an elevated heel (when compared to the toe) which adds weight to the shoe and places your foot in an unnatural position. Zero Drop allows for a more natural foot movement while providing equal cushioning in the heel and forefoot which keeps things comfortable.
Altra Lone Peak NeoShell Mid
The Altra Lone Peak is a hiking / running shoe which is half the weight of a traditional hiking boot and uses Polartec NeoShell to keep your feet dry while allowing them to breath. This waterproof / breathable fabric is actually on the exterior of the shoe and is the first shoe to integrate a waterproof/breathable fabric in this way. This prevents moisture absorption from the exterior of the shoe which significantly reduces weight gain when hiking or running in the rain or snow.
 The Altra Lone Peak NeoShell comes in a Low and mesh version as well as the mid version discussed here.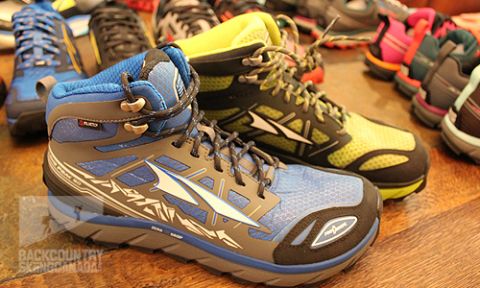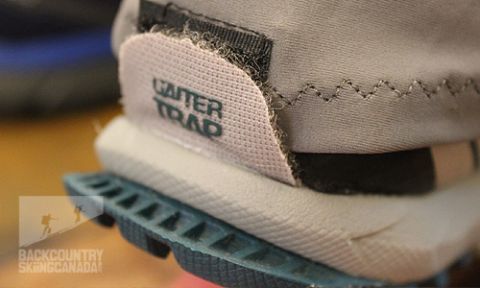 Stash Jacket
The Stash Jacket is a packable windbreaker that provides you the wearer the flexibility to put the jacket on, or take it off without having to stop what you are doing or even slow down. The open back provides ventilation and access to your pack. The elasticized belt keeps the jacket handy around your waist in a small pouch. With out breaking stride you can put the jacket on without having to remove your pack. It provides protection from the wind and light rain and can be stowed away just as easily. This unique design is like nothing else I've seen before and I can't wait until Altra (hopefully) makes a waterproof/breathable version that could be used for ski touring!
Specs:
Price: $130 US
Weight: 93.5g / 3.3oz
Material: 100% Nylon Ripstop with a DWR