Which is better, a Vest or a Pack?
As the snow starts to fall here in the Kootenays, and thoughts turn to the season ahead, the new gear starts to show on shelves in the stores and online. If you're new to touring, or looking to replace your pack, should you consider a vest?
There seem to be more options from manufacturers for vests for ski touring and split boarding than there has been. There are many companies that make vests, and the one in the photo above is
the Arva Reactor Vest.
How far will you be going with it?
There are a few different names for types of backcountry, (f
or definitions see our post
Here
) and they mostly give an idea of how far you are from a place where you can get warm, dry and fed. The further you go, the more you need to carry, therefore the bigger the vessel. Vests will only go up to around 20l of storage, depending on the size. So if you are intending to spend a whole day travelling a large distance through the backcountry, a pack would be a better option to ensure you're carrying all the gear you would need. If you are riding sidecountry or slackcountry, then the smaller size of the vest will be around the same as a day pack, and fit enough. Also in places where there are lift access touring or sidecountry laps available a pack needs to be taken off when riding the lift, more often than not. A vest, however, doesn't, which is why you will often see ski patrollers wearing vests.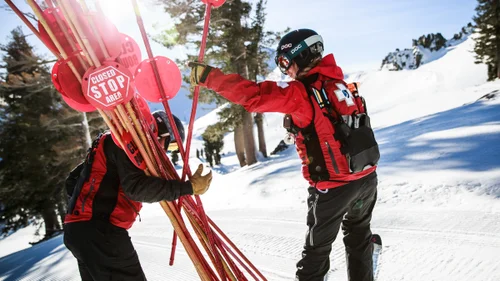 How warm do you get when touring?
All of us run at different temperatures when skinning up. One thing to bear in mind with a vest is that it is an extra layer over your core. As we know, starting cold and being bold is the way when skinning, so if you run hot, a pack may be the better option. Alternatively, if you run cold, the extra layer a vest gives may just give you the touch of warmth you need.
How often do you need access to gear?
The biggest difference between a vest and a pack of the same size is the access to more gear due to the front pockets on a vest. Again this is where personal preference is key. Most touring packs now have good hip belt pockets, which will fit some of the smaller items, such as snacks or sunglasses. The pockets on a vest are larger and will give the ability to stash more.
Fit and balance
By definition, a backpack means that there is a weight sitting on the back of the skier or rider. For some, this makes them feel unbalanced when loaded. The spreading of the load to the front of the body means the weight is a little more centred from back to front. With the different body mechanics of snowboarding and skiing the balance of weight seems to be more of a reason for choosing a vest when riding a snowboard. This is why there are splitboarders such as Bryan Iguchi are putting their name to
vests and not packs
.
Personally, as most of my touring is lift access and I like the balance, my preference is a vest. I have a larger pack for bigger days as well, but the vest from
WhatVest
is perfect for most days.