Our First Impressions Of The Alpinist Binding And An Overview With The Head Of Marker Research & Development
We just wrapped up two days of touring on the Marker's Alpinist binding. The first day skinning up at the Crévacol Ski Resort, Italy (near the Swiss border) where we found a decent serving of fresh powder and tree skiing for the way down. The second day we jumped on the Skyway Monto Bianco, Courmayeur for a 1000m lift to Punta Helbronner (3459m) which quite frankly took my humble experience of slack country to a whole new level. The terrain around Punta Helbronner is complex glaciated and simply breathtaking. We made our way over into Vallée Blanche, a well known and travelled route to Chamonix, France. There, blue bird skies and optimal conditions for glacier travel and skiing gave us a spectacular two laps of fresh powder on Glacier du Geant.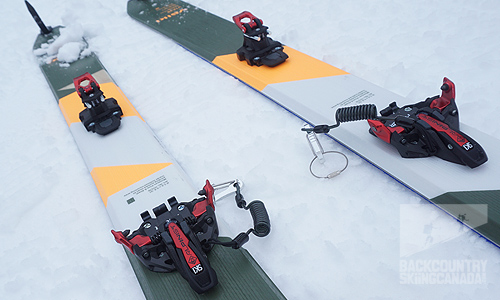 I had the alpinist's mounted onto Vokyls VTA 98's and the weight savings from the marriage of the two is distinctly noticeable for carrying and on the up track. Weight is where I would say Marker's Alpinist out performs any other binding of it's class and this was, for me, the greatest appeal of this binding given it comes fully featured. It's pretty incredible to see how Marker have leveraged their depth of knowledge and experience in binding design using composite materials to develop a lightweight pin binding that felt to me as sturdy as stainless on the up and down. Let's be clear here though, like the binding I am a lightweight frame so I don't put a lot of force on my equipment, time will tell how this binding performs for burlier skiers. That said, it is a binding designed for light and fast, if you want a burly low tech binding Marker have that covered with their Kingpins.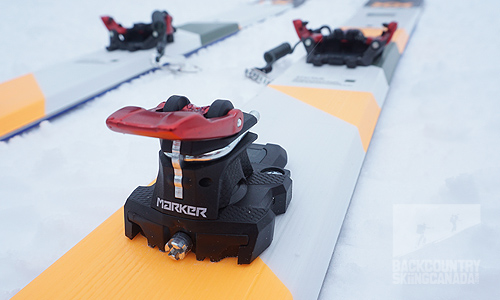 In terms of use, I feel like I need more time to get accustomed to clipping my toe in, I watched Stian Hagel clip in as if the pins and boots were magnetic. Sometimes I clipped in like a rockstar other times I felt a little clumsy, especially in the powder where I couldn't rely on the visual sights. Hagel has been skiing on these bindings for some time now, so my take away is it becomes second nature once you are accustomed. Switching over closer to the top of the glacier where it was icy I lacked the confidence in my abilities to click my toe in gracefully and I didn't want to take my skis off for the switch over in fear of fumbling around to get them back on again, so I didn't. I made the quick switch for the ski down by ripping my skins off with the skis still on, something I enjoy doing regularly especially when a quick switch over is necessary. Here I encountered more unfamiliar territory—how do I engage the brakes with my skis still on? I am sure it's possible, I just didn't try it because I forgot. I skied down without the brakes engaged because I am not used to re-engaging the brakes for the ski down (watch Stian Hagel describe engaging brakes here). This remains an area for further testing and is something we'll look at when we have more time with the bindings and put together a full review.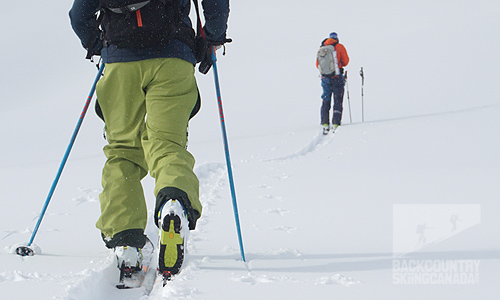 Touring up today I became quite accustomed to how the heel risers operate. I had my hesitations when I first eyeballed the setup but today I understood Markers logic in coupling 0º and 9º heel angles and then offering 5º with a 180º twist. The 0-9º works superbly in terrain where you have flats and steeps, the mechanism for switching with a pole flick is super efficient. I observed Marco our guide stayed in the consistent 5º when setting the uptrack on the Glacier du Geant. The angle promotes efficient track setting to a steady and consistent grade (though I give credit to Marco's skill and expertise at breaking trail), so for touring up regular slopes I feel like the 5º would be my go to. The added advantage of course is that on the switch over at the top, if you can rip your skins without taking your skis off, all you have to do is flick the 5º heel riser back and your heel is ready to step into for skiing without any of the regular heel twists. 

Listen to the head of Research and Development for Marker talk about the new Aplinist Binding's features:

Credit to the R&D that has gone into bringing this binding to market. According to Marker, the Alpinist (Al-pin-ist) is made up of 99% new parts, 80 in total, all developed specifically to offer a lightweight full-featured tech Binding. This took over 2 years, 4000 hours of research and development, an investment of 1.2 million €, and 250,000 vertical metres of testing.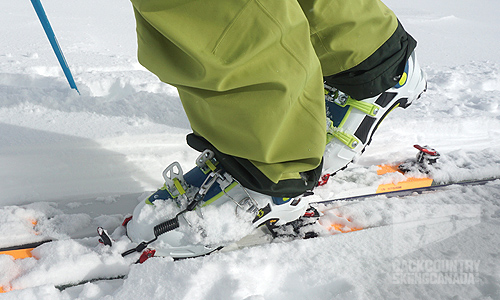 Whilst the Canadian price hasn't been released as yet rumour has it that it will also come in at a competitive price point. With this in mind, we are looking forward to spending more time on the snow getting to know the Alpinist. Stay tuned for the full review.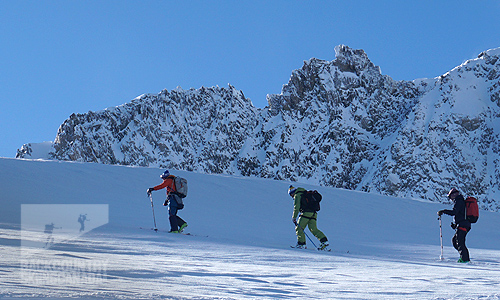 Watch
another video of the Alpinist Binding here
or
read more about the binding's specs here
.