MSR Remote - the four-season tent of choice
Tents have been hit especially hard by the ultralight craze, leaving us with silky mosquito nets held up by carbon poles and microscopic zippers. These are great for the high mileage summer season, but not so great for the first storm of the year, and definitely not applicable to winter travel. Winter travellers call for a durable, sturdy and warm tent - yes, often adding weight for optimal performance. Check out polar explorer Eric Larsen explain why he chooses the MSR Remote for the most demanding and remote expeditions...
As mentioned above; the MSR Remote 3 features a large, spacious vestibule, lots of guy-out points, and a snow-skirt, making it incredibly stable in high winds and extra warm in frigid temps. Using a slightly thicker nylon shell, the Remote 3 loses significantly less heat than some of its lightweight counterparts. What it adds in nylon, it saves with carbon poles, and comes in with a minimum weight of 3.69kg (8lb 2oz) with 4.27 square metres (46sqft) of space!
The snow skirt prevents excess heat loss and adds stability...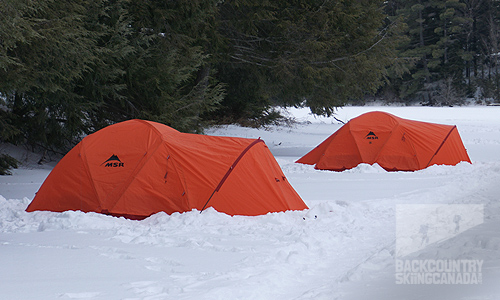 A spacious, stable dome shape with lots of room in the vestibule!