Jetboil 2020
Jetboil changed the way we cook in the outdoors in 2001 when their first stove hit the market. Their innovative stove design uses a FluxRing that provides greater surface are below the pot to not only provide a natural windbreak but more importantly drastically reduces boiling times by transferring the heat most effectively to the pot and its contents. For example, the Jetboil Minimo Stove can boil two cups or 500ml of water in just 2 minutes and 15 seconds.
In addition to this, some Jetboil stoves have a built-in regulator to control the pressure and flow rate which creates a consistent flame and cooking temperature. Not only can you now simmer (yes a stove that truly simmers!) but when a canister begins to empty this ensure that they won't lose power or sputter.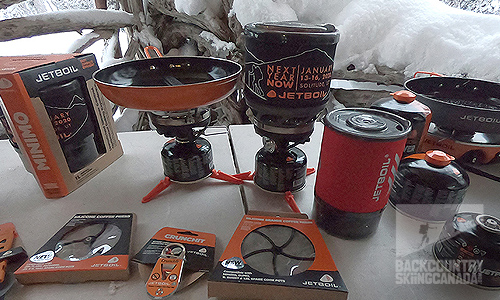 Jetboil stoves are also quick to set up and pack away since there are minimal parts to assemble before cooking. All the components are designed to fit together as a system, both in use and in storage as everything fits inside the Jetboil pot when not in use, no matter the size. This includes the fuels canister, stove element and the files stabilizer (or stand). The packed size is typically no more than that of a standard Nalgene water bottle, depending upon which stove you use. This means that it won't take up much space in your pack and the weight won't slow you down.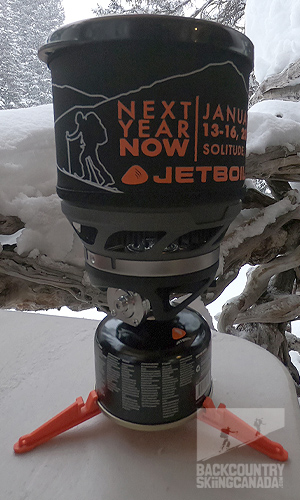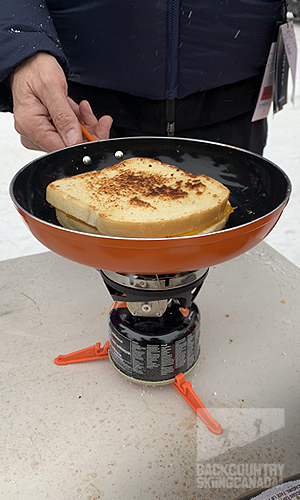 After using the Jetboil Minimo Stove at the 'Next Year Now' press event at Solitude Mountain Resort where we boiled up coffee, soup and fried some of the best-grilled cheese sandwiches ever, I'm impressed with how fast it cooks and how much control you have over the flame and heat intensity. The entire system packs down to a very small size and it's super handy how everything packs within the Jetboil pot itself. The bottom plastic stove protector even becomes a small glass or bowl should you need it. The overall design is very convenience, compact and incredibly efficient at cooking—which is important. The Jetboil system is the first all in one stove that actually lets you Sauté, Sear, steep and Simmer!