Jaybird Vista 2 Earbuds Review
The Jaybird Vista wireless headphones were released in 2019 and we reviewed them as part of our Best Wireless Headphones of 2019 article. This past June Jaybird released an updated version of the Vista and logically named them the Vista 2. 
The Jaybird Vista 2 is not a complete replacement for the Vista, rather it's a supplemental product that is targeted towards users who like to listen to music while keeping active. A number of improvements to the Vista 1 allow the Vista 2 headphones to be used in a variety of conditions and as Jaybird claims they are "earthproof," meaning that they are waterproof, sweatproof, drop-proof, and crushproof.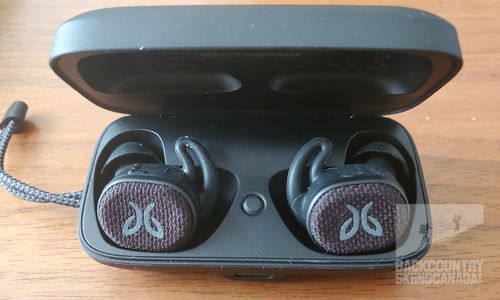 One of the main features that have been added to the Vista 2 is SurroundSense which allows users to still hear noises out on the trail or the road. Say you are out on a trail run and you still want to stay alert for other trail users or wildlife, simply turn SurroundSense on and you'll be able to listen to music but still have the ability to hear noises around you. If you are indoors and don't need to hear anything around you, double-tap to ANC (Active Noise Cancellation), which has been increased from the Vista 1, and all background noise will be eliminated which is useful if you are at the gym or working in a noisy office space. 
In addition to SurroundSense and increased ANC, an increase in dust and water protection from IPX7 top IP68 means that the Vista 2 buds are virtually indestructible. A rain shower or dust storm won't hurt the buds making them an ideal companion for those that recreate in a variety of weather conditions who don't want to be let down by buds that will fail at the first sight of water or fine debris. As well, for those times you need to take a call while outdoors the added WindDefense fabric over the mics will ensure that wind or other noises won't interfere while speaking. 
Overall, the Jaybird Vista 2 improves upon an already great Jaybird Vista 1 and will appeal to users who love to listen to music, podcasts, or the news, etc. while on the go. With 4 sets of tips included with the buds a wide range of ear sizes and shapes can be accommodated which means the buds will stay in place no matter the activity. In fact, the Vista 2 buds fit so well you would be hard-pressed to get them to budge which is important when running or cycling.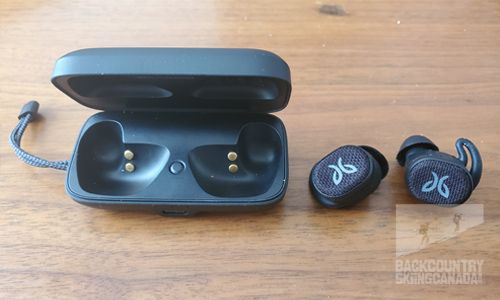 Updates to the Jaybird Vista 2
SurroundSense: Wind guarded mics elevate outside noise which allows users to be aware of their surroundings.
In-ear detection: It will auto-pause music.
Increased Active Noise Cancellation: To remove outside noises when at the office or gym.
Find my Case: The case has a built in GPS.
Case Wireless Charging: This works with any Qi wireless charging pad.
WindDefense fabric over mics: Prevents wind from interfering on calls.
Increased dust and water protection to IP68. IPX7 on Vista.
IP54 water resistance on Case.
Completed MIL-STD-810G testing.
Redesigned ear tips a bit from previous, includes four sets in box.
Buds battery life: 8 hours for regular mode, or 6 hours with noise cancellation modes (Increased from 6 hours regular mode on Vista 1)
Case battery: 24 hours in total (Increased from 16 hours on Vista 1)
Existing Features from Jaybird Vista
Find my Buds – for finding earbuds if in range of them.
USB-C charging port for case.
Independent use of earbuds.
In the Box
Vista 2 Totally Wireless Sport Headphones
Secure-Fit Eargels: 1/2/3
Charge Case
USB C Charging Cable
SPECS:
Price: Cost $269CAN
Colours: Black, LFG, Sparkle On, Midnight blue, Nimbus Grey
Battery Life: 8 hours + 16 from the case (5min = 1hour)
Durability: IP68 Waterproof & Sweatproof
Impedance: 23 Ohm +-15% at 1KHz
Speaker sensitivity: 103.5 +-1.5dB at 1KHz
Output 12 mW RMS (with level limit)
Total Harmonic Distortion <3% (1KHz, 1mW)
Audio Format: 16-bit Stereo
Codec: Bluetooth® SBC Implementation & AAC
Response Bandwidth 20Hz - 20kHz
Driver Size: 6 mm