Gaia GPS App: A must have
There are plenty of GPS apps out there and I've used a few over the years, each had their pros and cons but I kept being told to check out Gaia GPS, so I did. This is a 144.5MB app from Trailbehind Inc and is free to download from all the regular locations like Apple's App Store and Google Play. There's a $19.99 membership version available as well as a premium version for $39.99. It runs on your iPhone, iPad, Apple Watch or Android device as well as your desktop computer.
You can easily make your own routes in the app, but don't expect turn by turn navigation, Gaia GPS is primarily for your backcountry adventures. When not in cell rang and without wifi you still get a GPS signal and to use this for navigation you have to ensure you pre-download and cache a map of the area you wish to navigate. To do this you simply open the My Maps menu, drag a box over the area you want to be able to access offline, wait for it to download and you're done.
Gaia GPS provides useful data along your route such as your average speed, pace, the time you've spent moving, how long it'll take you to get to your destination, altitude, and the times for sunrise and sunset in your current location. You can also take geotagged photos along the route or if you find a point of interest along the route or simply want to mark a location you can place a waypoint marker at any time.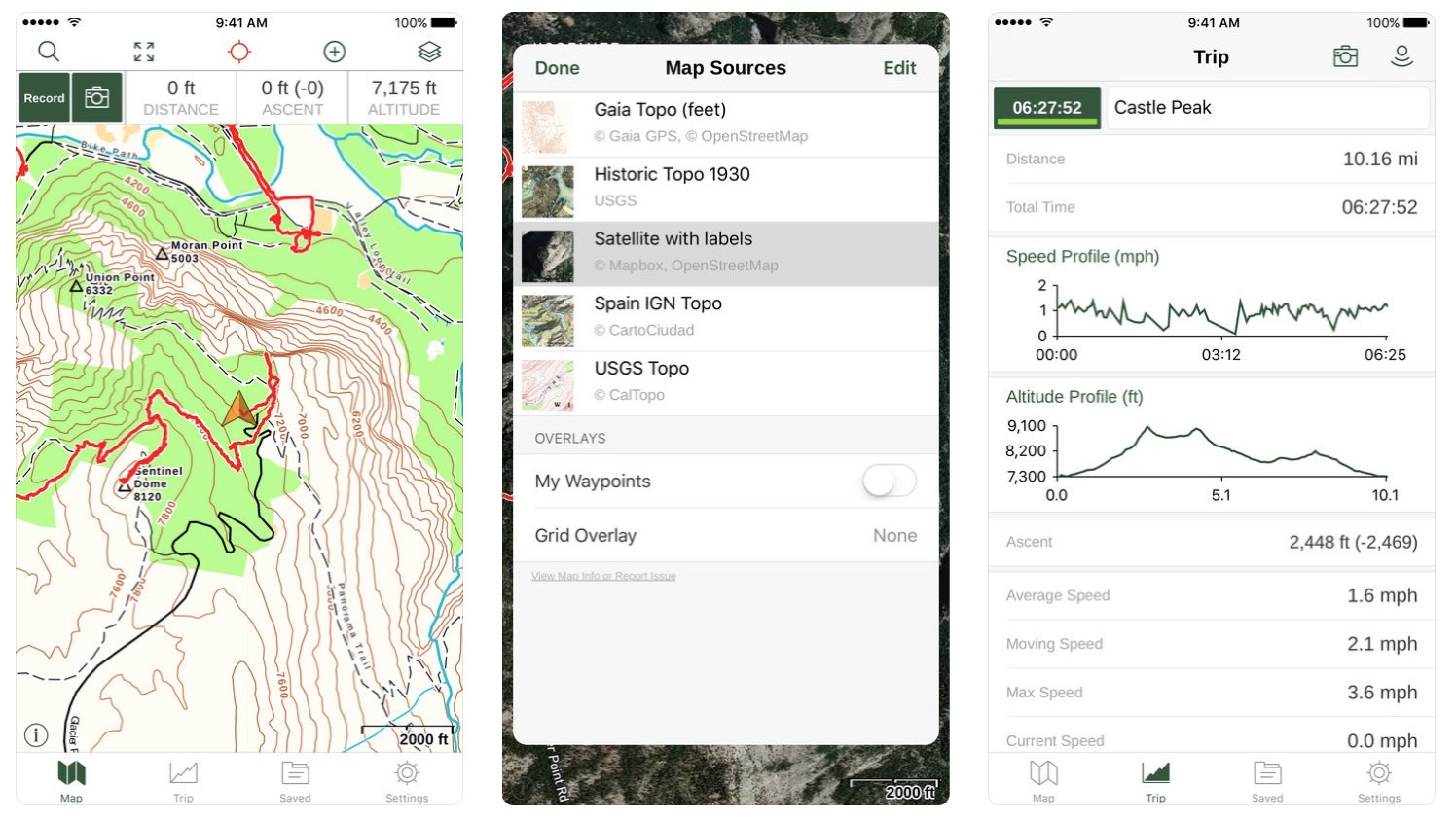 Gaia's biggest plus has to be the number of maps available, there are even some with specific users in mind such as those for cyclists, aviation, and maritime users. While it will not show you the closest Starbucks, it will show the location of shelters, points of interest in national parks, and hiking paths around the world. These are displayed as map overlays which you can turn on and off as needed. Gaia GPS initially comes with three maps ready to use (Satellite, USGS Topo and Roads) but you can also load many more such as specific maps for Europe, Canada, a number of different forest service and geological survey maps, nautical maps, hunting maps, and many more.
Once you have completed a route you can publish your data to share with the Gaia community as well as search other's routes. This makes Gaia a powerful tool for navigation and education.
If you plan to use Gaia GPS for longer hikes be sure to take along a supplementary power source as Gaia GPS, like any mapping app is a bit of a power hog. Placing your phone in airplane mode helps a lot and I found that Gaia GPS didn't use as much battery power as some other navigation apps that I've used in the past.
On a recent 5 day ski traverse I used Gaia GPS to track our route, you can have a look at some of that data here and also how the data was then converted over to google maps here.

For more maps and to follow Backcountry Skiing Canada on Gaia GPS click on over here.