Boulder Denim stretch jeans for all your adventures
Everyone loves a good pair of well fitting jeans, they become your everyday go-to pants. That is until you want to go hiking, climbing, biking or do anything athletic. Dungarees just don't have enough stretch/give to be of any use for anything other than a pure casual pant. Brad & Taz are out to change this with their new Vancouver-based company called Boulder Denim. 
The pair launched their company on Kickstarter and IndieGoGo and got a huge response from backers. Shortly after this, they appeared on Dragon's Den where their product was also a hit and they were offered a deal by Jim Treliving. Ultimately they did not take this deal and instead, the company was backed by their fabric mill itself. From day one there has been an obvious need for their product based on the response they have received, long story short, Boulder Denim is born.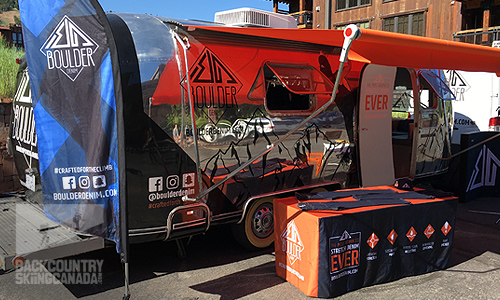 The Boulder Denim crew rolled into Outdoor PressCamp in their Airstream Trailer /mobile fitting room/bouldering cave and from Deer Valley they are touring the country to spread the gospel of their new creation. Before I spoke with Brad & Taz I tried on a pair of their athletic fitting jeans and was amazed and how comfortable they were and how well they fit. And I'm not a blue jean person—at all. I have never really liked the look or fit of jeans before, but I have to say, I'm now a convert. In the past few weeks, I've worn them for more days than I care to admit around the house and even done a few hikes in them, but I have yet to go climbing with them on. As this is what they were really designed for, I'll have to get out and see how the stretch and maneuverability performs at the crag, but judging by Brad's (or was that Taz's?) moves on the Airstream's climbing cave, they should work just fine. The secret is the jeans fabric, 93% cotton, 5% elasterell-poly, and 2% lycra. This is where the stretch and close fit comes from. And Boulder Jean have a patented woven technology which provides 92% stretch retainment, where as the industry standard is only  64%. So this means that Boulder Denim Jeans will maintain their shape longer and better than any other jeans on the market.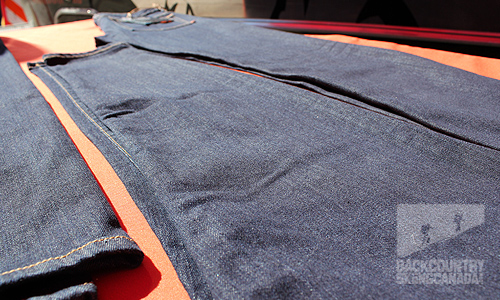 Fit:
- Medium rise that sits just above the hip, more room through the thigh, knee and calf with a slight taper.
- Offers more thigh and calf room for men with muscular legs.
- All Boulder Denim comes standard with industry-leading stretch retainment, hydrophobic wash, trap pockets and reinforced stitching.
The inseam is 34" for waist sizes 28-33 and 36" for waist sizes 34-40. They are meant to be hemmed or rolled up if they are too long.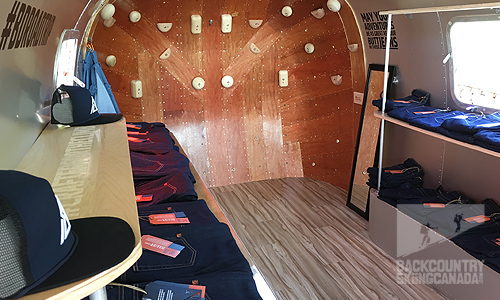 Features:
- Look and feel great (you have to try them to believe it.)
- Built-in flex and stretch without being baggy.
- DWR on the fabric repels water, oils, and dirt, etc.
- Hidden zippered pocket for cell phones.
Specs:
Price $198CAN / $148US
Sizes: Men's 28/34-40/34 (slim and athletic fits), women's 24- 34 (skinny)