The toughest Ski Mountaineering Race?
The Five Peaks Ski Mountaineering Race, April 9th Breckenridge, Colorado
The Five Peaks – North America's highest and most challenging ski mountaineering race is April 9th at Breckenridge Ski Resort. The Five Peaks course takes competitors over 8,500 ft. of climbing and four summits. Beginning at 6 am in front of the Maggie (Peak 9 base), teams of two will skin and bootpack the peaks and saddles of Peaks 9, 8 and 7, finishing at the base of Peak 7. Highlights include climbs of Peak 9 from both the southeast and north ridge, a boot pack up Wacky's in the Lake Chutes and a final climb of Peak 7 from the Ore Bucket backcountry access gate.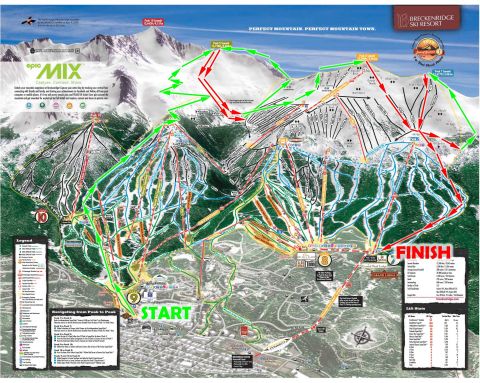 The Peak 7 climb is back. And it's bigger. But better, read on:
As of March 18th we've added a second climb up the north side of Peak 9 and moved the Peak 7 climb to the north. The Peak 7 climb begins via the Ore Bucket bc gate and re-enters Peak 7 via the upper bc gate. Likely April 9th conditions for the Butress/N. Ridge second climb of 9 will be a skin/boot/skin/boot. 2011: "More of the good stuff, less of the not so good stuff."
Total Vertical: 8,650 ft. Climb 1: 3,598', Climb 2: 1,750', Climb 3: 1,548', Climb 4: 1,750'. Note that conditions may vary the course greatly. In the event of heavy snow the course will not ascend Peak 9 but do more in the lift-served areas of the resort.
Start - 6 am, Peak 9 base area in front of The Maggie next to the Quicksilver Super6 chair.
Finish - Base of Monte Cristo run at Peak 7 base area (approximately 100 yards above skier corral on skier's left). Upon finishing racers will collect their personal bag of warm clothes (transported by race org. from start), and ride the free gondola back into town.
Course is marked with green SCARPA pin flags on climbs, red panels and pin flags on descents. Transitions are marked with CAMP and Dynafit windblades. All transitions are staffed with course marshals, additional marshals are on-course at trail junctions and areas crossing ski area skier traffic.
First ascent (Peak 9) follows groomed runs until leaving the ski area via the Peak 9 gate above the Windows. Course switchbacks to the south towards Peak 10 and then ascends Peak 9 via the se slope.
From Peak 9 summit, descend east ridge, re-enter ski area via the Corner Pocket, descend to transition near the avilauncher. Skin up near ropeline to The Buttress. On the Buttress skiers must put skis on pack. Continue ascending south towards Peak 9 (crossing the Wheeler Trail) on snow or grass (depending on contitions) by boot or skinning. On the final 400 m of the ridge racers must put skis on pack.
Descend same route of Peak 9 as the first descent. From the Avilauncher, skin directly to the base of Wacky's (climber's left of Lake Chute), at Wacky's skiers must put skis on pack and follow boot back to ridge top. At ridge top, skis go back on and skin to top of Peak 8.
From summit of Peak 8, descend Whale's tale to Ore Bucket. Skiers must stay far skiers left to reach the Ore Bucket back country gate. Go out the gate for another 100 feet of descending to the final transition. Follow skin track to top of Peak 7 via the upper backcountry gate.
At summit of Peak 7, transition and descend C.J.'s to Ore Bucket, to Monte Cristo, to base and finish. Finish is on skier's left side of Monte Cristo 50 yards above the chair lift corral/base area at Peak 7.
The Five Peaks is open to ski mountaineering teams of two looking for a high-alpine challenge. The $160 per-team entry fee includes post-race happy hour, beer, dinner and a big raffle at Kenosha Steakhouse. For complete information, course map and required gear list go to: thefivevepeaks.com. Walk-up registration is available in Breckenridge at Mountain Outftters and Amazing Grace, on-line registration is at athlete360.com.