Ken Jones Classic ski mountaineering race - Lake Louise
Athletes can go straight in to http://www.alpineclubofcanada&.....assic.html for a registration form and all the current race details, updated as the event gets closer. They can also phone 1 403 678 3200 ext. 108 and leave a message for Sheila. She'll call back and folks can set things up that way. Or else fill out, sign, and email the attached form to officemanager@alpineclubofcanada.ca . Racers can also walk-in register just before the race briefing at 7:00 am. Saturday 08 Feb at Lake Louise.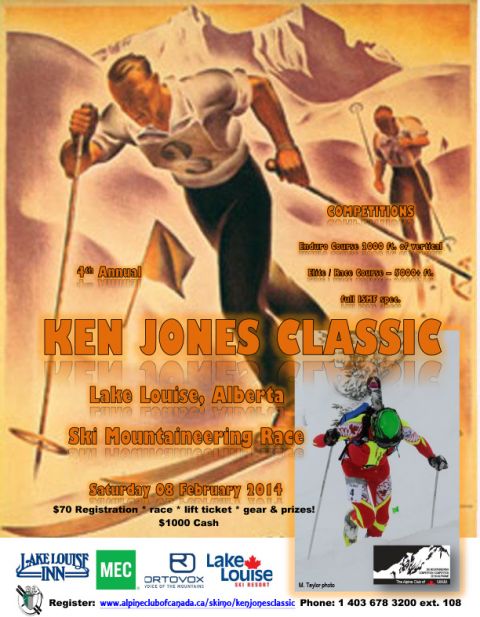 You don't have to be fast to have fun! Citizen's / Recreational categories, too. Find out what it is all about. It is going to be a great course.
Still to come:
ROAM Randonnee Rally, Nelson
Dog Tooth Dash, Golden
Let's pump the COP April joint, too.
Get people excited.
dD
David Dornian, chair
SKI MOUNTAINEERING COMPETITION CANADA / COMPÉTITION DE SKI ALPINISME CANADA
The Alpine Club of Canada
Mobile = +1 403 969 9673
Skype = david.dornian